Wiadomość
gry
30 listopada 2015, 10:09
autor: Adrian Werner
Wystartowała nowa wyprzedaż gier w Biedronce
Sieć sklepów Biedronka zorganizowała nową promocję gier. W jej ramach można tanio nabyć produkcje wydane na pecety oraz konsole PlayStation 4, Xbox One, PlayStation 3 i Xbox 360.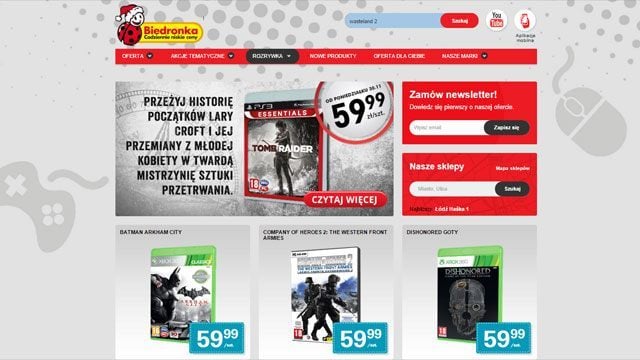 Tym razem w ofercie coś dla siebie znajdą zarówno gracze pecetowi, jak i konsolowi.
W sklepach sieci Biedronka ruszyła nowa wyprzedaż gier. Tradycyjnie objęła ona zarówno gry pecetowe, jak i konsolowe.
Gry na PC:
Company of Heroes 2: The Western Front Armies za 59,99 PLN
Emergency 5: Symulator Misji Ratunkowych za 59,99 PLN
Dead Rising 2 Złota Edycja za 59,99 PLN
Escape Dead Island za 59,99 PLN
Final Fantasy XIV za 59,99 PLN
Karaoke: Radosne Piosenki za 59,99 PLN
Karaoke Radiowe Hity za 59,99 PLN
Mega Pakiet Gier Wyścigowych 59,99 PLN
Magicka 2 Deluxe Edition za 59,99 PLN
Men of War: Assault Squad 2 Delux Edition za 59,99 PLN
Mortal Kombat X za 59,99 PLN
Obcy: Izolacja (Edycja Nostromo) za 59,99 PLN
Perils of Man za 59,99 PLN
Risen 3: Władcy Tytanów za 59,99 PLN
Resident Evil Revelations 2 za 59,99 PLN
Saints Row IV Game of the Century za 59,99 PLN
Śródziemie: Cień Mordoru za 59,99 PLN
Trainz: Nowa Era za 59,99 PLN
Wolfenstein: The New Order za 59,99 PLN
Wasteland 2 za 59,99 PLN
Batman: Arkham Knight za 79,99 PLN
Borderlands: The Pre-Sequel! za 79,99 PLN
IL-2 Sturmovik: Battle of Stalingrad za 79,99 PLN
LEGO Batman 3: Poza Gotham za 79,99 PLN
Mad Max za 79,99 PLN
The Evil Within za 79,99 PLN
Gry na PlayStation 4:
Gry na Xboksa One:
Gry na PlayStation 3:
Gry na Xboksa 360:
Promocja potrwa do wyczerpania zapasów. Warto pamiętać, że nie wszystkie sklepy będą posiadały pełny asortyment przecenionych gier.