Zabytki - Miejsca odnajdywania zabytków w LA Noire
L.A. Noire poradnik, solucja
Informacje wstępne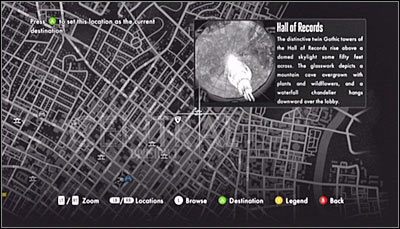 W trakcie zabawy do odkrycia jest w sumie 30 różnych zabytków rozmieszczonych w różnych dzielnicach wirtualnego Los Angeles. Odnalezienie wszystkich miejsc wchodzących w skład tej kategorii jest wymagane jeżeli masz w planach zaliczenie gry w 100%. W celu odblokowania zabytku musisz obok niego przejść lub przejechać i zostaniesz o tym fakcie przez grę poinformowany. Od tego momentu będziesz też mógł zapoznać się z informacjami na temat danego obiektu z poziomu głównej mapy miasta (powyższy screen).
Miejsca odnajdywania zabytków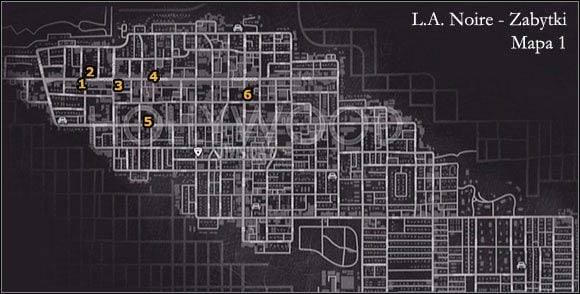 ZABYTKI - MAPA 1:
1) Hotel Roosevelt
2) Grauman's Theater
3) Max Factor Building
4) Musso & Franks
5) Crossroads of the World
6) Brown Derby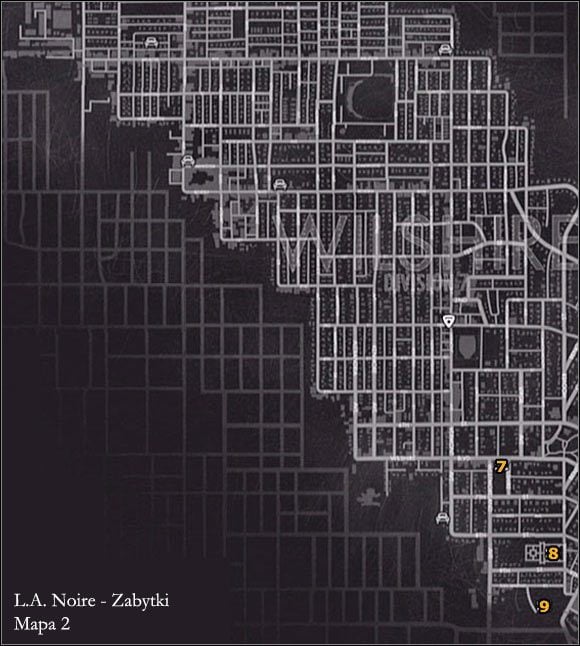 ZABYTKI - MAPA 2:
7) Bullocks Wilshire
8) LA County Art Museum
9) Westlake Tar Pits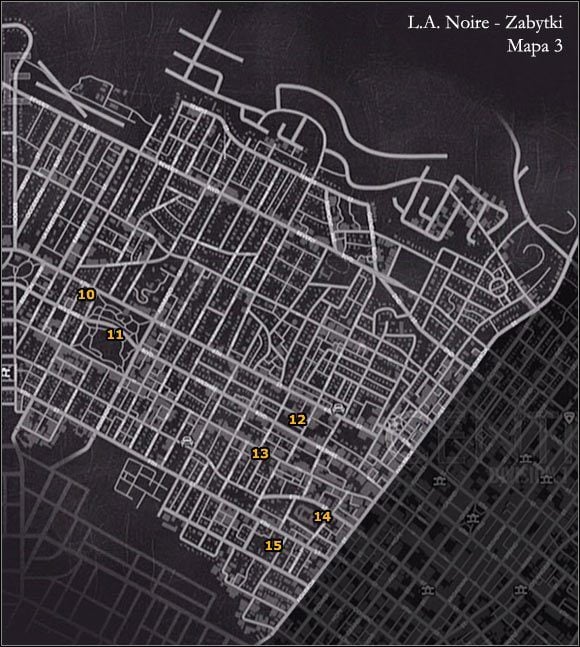 ZABYTKI - MAPA 3:
10) Park Plaza
11) MacArthur Park
12) The Good Samaritan Hospital
13) The Mayfair Hotel
14) Intolerance Set
15) Christ Crown of Thorns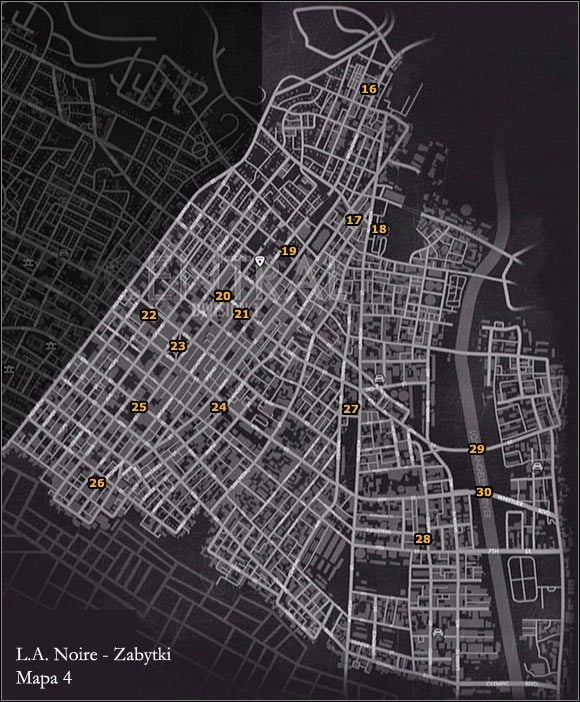 ZABYTKI - MAPA 4:
16) Chinatown
17) El Pueblo de Los Angeles
18) Union Station
19) Hall of Records
20) Angels Flight
21) The Bradbury Building
22) LA Public Library
23) Pershing Square
24) Main St Terminal
25) RKO Theatre
26) Los Angeles Examiner
27) LA Cold Storage Co.
28) National Biscuit Company
29) 4th Street Viaduct
30) 6th Street Viaduct