Fort Ranik (Mission) | Ascalon | Guild Wars Prophecies
poradnik Guild Wars: Prophecies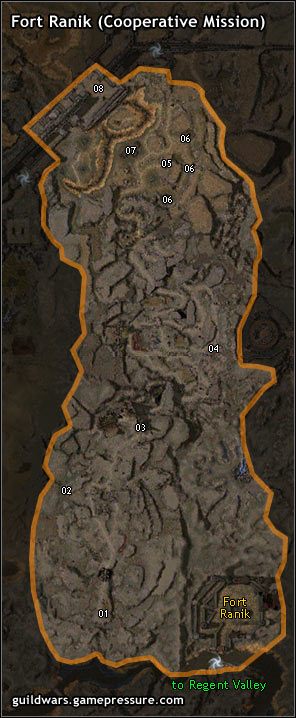 Fort Ranik
Fort Ranik był miejscem używanym przez wojsko Ascalonu do przygotowywania nowych żołnierzy do walk w Wojnach Gildii. Gdy wojna się zakończyła, sam fort, podobnie jak większość budynków w Ascalonie, uległ prawie całkowitemu zniszczeniu. Wszystko co zostało to zewnętrzne ściany oraz pamięć o tym co kiedyś tu było.
Henchmen Level 6
Orion (Mage Henchman), Alesia (Healer Henchman), Reyna (Archer Henchman), Stefan (Fighter Henchman).
Lord Darrin
Gram (Merchant)
Xunlai Agent (Storage)
Fort Ranik (Cooperative Mission)
Możesz wejść na tą mapę korzystając z opcji "Enter Mission" w lokacji Fort Ranik .
Mission: Push back the invading Charr army. ADDED: Locate the RESTRAINING BOLT, ARMING CRANK and REELASE LEVER and return it to Siegemaster Lomar. (Odepchnij siły inwazyjne armii Charrów. DODATKOWO: Znajdź RESTRAINING BOLT, ARMING CRANK oraz REELASE LEVER i zwróć je do Siegemaster Lomar). Nagroda: 1000 xp, 1 Skill Point.
*BONUS* Rescue Deeter Saberlin from his Charr imprisonment. (Uratuj Deeter Saberlin z więzienia Charrów). Nagroda: 1000 xp.
Po zakończeniu tej Misji uzyskasz dostęp do lokacji Frontier Gate.
01 Start
Tutaj rozpoczynasz.
02
Gurn Blanston
Quest: Deliver a Message to My Wife. Find Melka Blanston, outside of Ascalon City, and tell her that Gurn loves her. (Znajdź Melka Blanston na zewnątrz Ascalon City i powiedz jej, że Gurn ją kocha). Nagroda: 500 xp.
03
Master Armin Saberlin
*BONUS* Rescue Deeter Saberlin from his Charr imprisonment. (Uratuj Deeter Saberlin z więzienia Charrów).
04
Trooper Diter Saberlin (for *BONUS*)
Captive Soldier
05 Catapult
Siedgemaster Lomar
06 Wrecked Catapult
Catapult Parts (Items) - Zanieś części do Siedgemaster Lomar
07 Charr Army
UWAGA: Nie atakuj ich przed naprawieniem katapulty. Teraz wystarczy wystrzelić naprawioną katapultą w armię Charrów aby ich wykończyć. Następnie trzeba wywabić resztę wrogów zza muru (trzeba podejść blisko i jak się ruszą szybko się cofnąć), a następnie strzelić w nich drugą katapultą stojącą na północy przy samym murze.
08 Frontier Gate Entrance
Ruszaj tutaj eliminując po drodze wszystkich wrogów.Gdy zabijesz wszystkich misja zostanie Zaliczona, a ty znajdziesz się we Frontier Gate.