Ring of Fire (Mission) | Ring of Fire | Guild Wars Prophecies
poradnik Guild Wars: Prophecies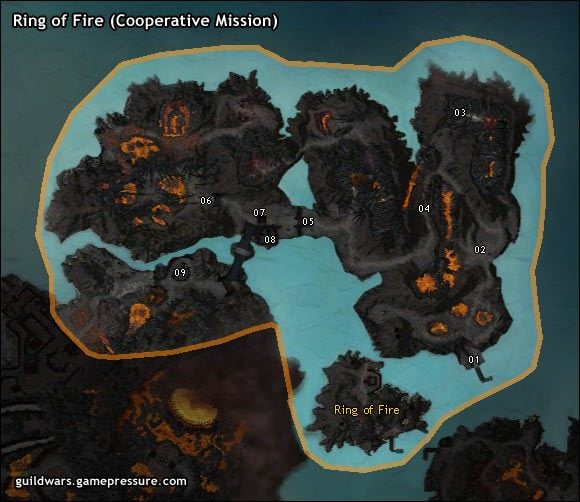 Ring of Fire
Duży wulkan w centralnej części pierścienia to miejsce gdzie bogowie podobno wyrzucili legendarne Bloodstony przed opuszczeniem Tyrii. Z wulkanicznych wysp otaczające tą jedną, wiele jest wciąż aktywnych. Okręty mijające Pierścień skłądają raporty o syczących śpiewach gorącej lawy wlewającej się do oceanu, nieustannie zamieniając słoną wodę w parę.
Henchmen Level 20
Little Thom (Brawler Henchman), Lina (Protector Henchman), Dunham (Enchanter Henchman), Eve (Cultist Henchman), Mhenlo (Healer Henchman), Cynn (Mage Henchman), Devona (Fighter Henchman), Aidan (Archer Henchman).
Fogard Axemighty
Gnik'ekaj (Merchant)
Xunlai Agent (Storage)
Ring of Fire (Cooperative Mission
Możesz wejść na tą mapę korzystając z opcji "Enter Mission" w lokacji Ring of Fire .
Mission: Establish a foothold on the Ring of Fire Island Chain. Gain access to the Citadel Guardhouse. Open the main gate to the Citadel Guardhouse. Clear the Guardhouse of Mursaat. (Ustanów obóz na archipelagu Ring of Fire. Dostań się do Strażniczej Cytadeli. Otwórz bramę główną do Strażniczej Cytadeli. Oczyść Cytadelę z Mursaat). Nagroda: 1000 xp, 1 Skill Point.
*BONUS* Defeat the Eidolon. (Pokonaj Eidolon). Nagroda: 1000 xp.
Po zakończeniu tej Misji uzyskasz dostęp do lokacji Abaddon's Mouth.
01 Start
Brechnar Ironhammer
Pomoże ci odciągnąć dużą grupę potworów na początku.
02 Ether Seal
Zniszcz ja.
03
Ancient Seer (Daj mu Spectral Essence zdobyte na Eidolon aby uzyskać "infuse" zbroi)
*BONUS* Defeat the Eidolon. (Pokonaj Eidolon).
TIP: Aby ukończyć *BONUS* trzeba zniszczyć wszystkie Ether Selas w Cytadeli. Dopiero wtedy pojawia się Eidolon.
04 Ether Seal
TIP: Wcześniej jest kałuża lawy. Trzeba przebiec na drugi brzeg ale tak, żeby nie wpaść pod wpływ Ether Seal.
05 Citadel Front Gate
NOTE: To wejście jest silnie strzeżone. Najlepiej obejść Cytadelę od tyłu i wejść przez tylną bramę. Po drodze jest trochę rozlanej lawy, na którą należy szczególnie uważać.
06 Citadel Back Gate
07 Citadel Guardhouse
TIP: Bezpieczniejsza droga do środka wiedzie przez tylne wejście.
Eidolon (Monster do *BONUS*)
Pojawia się po zniszczeniu wszystkich Ether Seala w Cytadeli. Zostawia Spectral Essence (Item). Zanieś go do Ancient Seer.
07 Lever
Lever otwiera przejście na południe.
08 Courtyard
Zabij wszystkich wrogów aby odbić lokację Abaddon's Mouth i ukończyć misję.