Gates of Kryta (Mission) | Northern Kryta | Guild Wars Prophecies
poradnik Guild Wars: Prophecies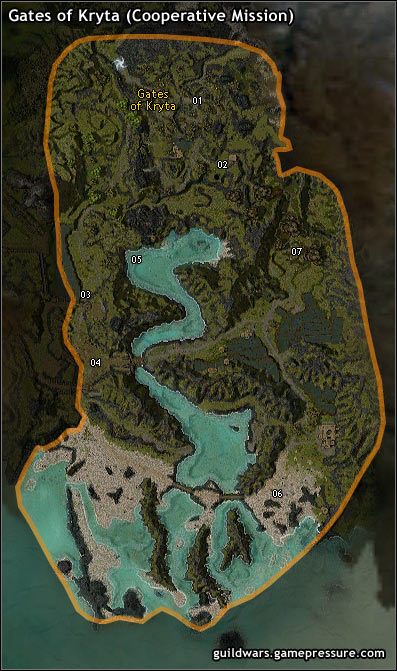 Gates of Kryta
Kryta, niegdyś wplątana w wyniszczającą wojnę z Orr i Ascalonem, obecnie jest jedynym prosperującym królestwem ludzi na kontynencie Tyria. Podróżnicy przybywający tu przez zdradzieckie Shiverpeak Mountains docierają do wzgórz otaczających miasto Lion's Arch.
Henchmen Level 10
Little Thom (Brawler Henchman), Claude (Cultist Henchman), Alesia (Healer Henchman), Orion (Mage Henchman), Stefan (Fighter Henchman), Reyna (Archer Henchman), Dunham (Enchanter Henchman).
Witness Casori
Chebar (Merchant)
Xunlai Agent (Storage)
Gates of Kryta (Cooperative Mission)
Możesz wejść na tą mapę korzystając z opcji "Enter Mission" w lokacji Gates of Kryta.
Mission: Secure a safe place for your people to settle. Make contact with the local authorities at Lion's Arch. Head south across the beach to find Justiciar Hablion. Help Justiciar Hablion clear the swamp of undead. (Zabezpiecz miejsce osiedlania się dla swoich rodaków. Skontaktuj się z lokalnymi władzami w Lion's Arch. Kieruj się na południe wzdłuż plaży aż znajdziesz Justiciar Hablion. Pomóż mu oczyścić bagna z nieumarłych). Nagroda: 1000 xp, 1 Skill Point.
Zostało jeszcze 54% zawartości tej strony, której nie widzisz w tej chwili ...
... pozostała treść tej strony oraz tysiące innych ciekawych materiałów dostępne są w całości dla posiadaczy Abonamentu Premium
Abonament dla Ciebie