Eastern Frontier, Frontier Gate | Ascalon | Guild Wars Prophecies
poradnik Guild Wars: Prophecies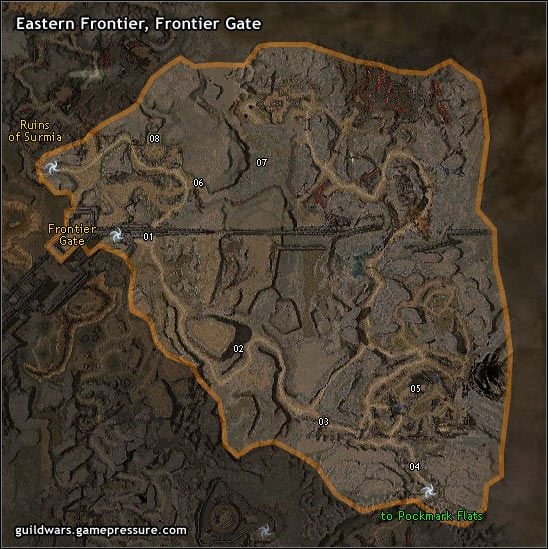 Frontier Gate
Frontier Gate, jedna z niewielu jeszcze działających bram w Great Northern Wall, wyznacza granicę między ocalałymi pozostałościami Ascalonu, a północnymi ziemiami, opanowanymi teraz przez Charry. Niewielu przekraczających bramę wraca by opowiedzieć co zobaczyli.
Henchmen Level 6
Orion (Mage Henchman), Alesia (Healer Henchman), Reyna (Archer Henchman), Stefan (Fighter Henchman).
Warmaster Riga
Quest: Frontier Gate Fugitives. Search the Eastern Frontier and Pockmark Flats for Footman Tate and Footman Quinn. Bring them to justice. Footman Tate surrender. Lead him back to the Frontier Gate. Kill Footman Quinn. Return to Warmaster Riga for your reward. (Przeszukaj Eastern Frontier i Pockmark Flats w poszukiwaniu Footmana Tate i Footmana Quinn. Sprowadź ich do porządku. Footman Tate się poddał. Zaprowadź go z powrotem do Frontier Gate. Zabij Footmana Quinn. Wróć do Warmaster Riga po nagrodę). Nagroda: 1000 xp, Longbow (Piercing Dmg: 9-13 req. 3 Marksmanship, Two-handed), Focus Item (Energy +6 req. 5 Healing Prayers).
Primary Quest: Ruins of Surmia. Go north of the Wall in the Eastern Frontier and follow the road to Surmia. Talk to Captain Miken. (Posuwaj się na północ od Muru w Eastern Frontier , drogą do Surmia. Porozmawiaj z Captain Miken). Nagroda: 500 xp, Smiting Rod (Light Dmg: 2-4).
Zostało jeszcze 62% zawartości tej strony, której nie widzisz w tej chwili ...
... pozostała treść tej strony oraz tysiące innych ciekawych materiałów dostępne są w całości dla posiadaczy Abonamentu Premium
Abonament dla Ciebie