The Wilds (Mission) | Maguuma Jungle | Guild Wars Prophecies
poradnik Guild Wars: Prophecies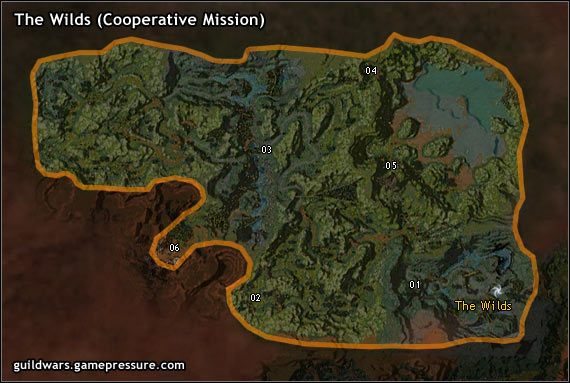 The Wilds
Maguuma Jungle jest być może najniebezpieczniejszym miejscem na kontynencie Tyria. Krytanie rzadko przekraczają jej granice, a o tych którzy to zrobili nieczęsto słychać ponownie. Opowieści o ludziach zjadających rośliny i olbrzymich owadach są chętnie opowiadane przy ogniskach oraz w domostwach miejscowych wiosek; często wyłącznie po to by odstraszyć małe dzieci przed wchodzeniem w gęstwiny pnączy.
Henchmen Level 12
Little Thom (Brawler Henchman), Claude (Cultist Henchman), Alesia (Healer Henchman), Orion (Mage Henchman), Stefan (Fighter Henchman), Reyna (Archer Henchman), Dunham (Enchanter Henchman).
Witness Giselle
Sihor (Merchant)
Xunlai Agent (Storage)
The Wilds (Cooperative Mission)
Możesz wejść na tą mapę korzystając z opcji "Enter Mission" w lokacji The Wilds.
Mission: Hunt down the Shining Blade kidnappers, and rescue the Chosen they have taken hostage. Chase the fleeing Shining Blade. Rescue the Chosen. Discover how the Shining Blade navigate the jungle. (Odszukaj porywaczy z klanu Shining Blade i uratuj z ich rąk wziętych do niewoli Wybrańców. Ścigaj uciekających Shining Blade. Uratuj Wybrańców. Odkryj w jaki sposób Shining Blade posługują się dżunglą). Nagroda: 1000 xp, 1 Skill Point.
*BONUS* Defeat two Centaur chieftains. (Pokonaj dwóch przywódców Centaurów). Nagroda: 1000 xp.
Po zakończeniu tej Misji uzyskasz dostęp do lokacji Bloodstone Fen.
01 Start
Rozpoczynasz tutaj.
02 Centaur Camp
Centaur Scouts - Zostawiają Vine Seed (Item)
UWAGA: Jeżeli chcesz dostać *BONUS* Quest nie atakuj ich lecz zatrzymaj się w bezpiecznej odległości i podsłuchaj o czy rozmawiają. Dopiero gdy ostaniesz *BONUS* zabij ich i zabierz Vine Seed (Item). Następnie udaj się do skarpy (04) gdzie ziarno należy zrzucić (Drop Item) do świecącego na ziemi okręgu. Dzięki temu wyrośnie roślinny most prowadzący do Twierdzy Centaurów.
*BONUS* Defeat two Centaur chieftains. (Pokonaj dwóch przywódców Centaurów).
03 Vine Seed Flower
Obejrzyj film aby dowiedzieć się jak kontrolować roślinne mosty.
04 Jungle Mechanism
Upuść Vine Seed (do *BONUS*) do okręgu aby stworzyć most do Twierdzy Centaurów
05 Centaur Stronghold
Ramtha Brokenhoof (Centaur Warchief do *BONUS*)
Horm Froststrider (Centaur Warchief do *BONUS*)
06 Spider's Lair
NOTE: Aby tu dojść trzeba wejść do koryta rzeki od północy.
Markis, Saidra, Evennia
Proszą abyś zabił pająki i uratował Wybrańców od okropnej śmierci. Gdy wykonasz Misję zabierają cię do Bloodstone Fen.