Sanctum Cay (Mission) | Southern Kryta | Guild Wars Prophecies
poradnik Guild Wars: Prophecies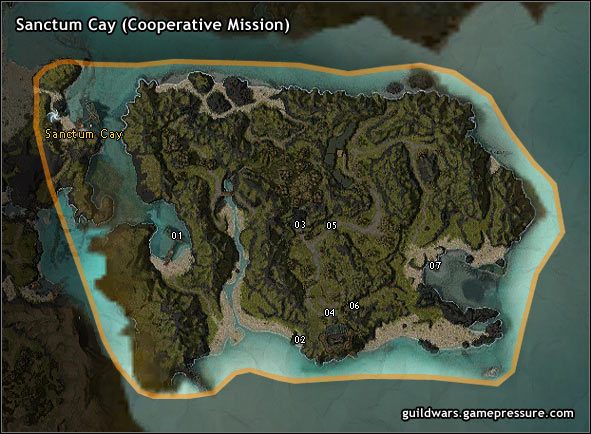 Sanctum Cay
Przepiękny port będący ulubionym miejscem zawijania okrętów przywożących na Krytę egzotyczne towary z Cantha. Na południowym-wschodzie leżą ruiny starożytnego klasztoru, w którym nauczano sztuki Smiting Prayers, przekształcając krytańskich mnichów z biernych znachorów leczących rany w agresywnych obrońców kraju.
Henchmen Level 15
Little Thom (Brawler Henchman), Claude (Cultist Henchman), Alesia (Healer Henchman), Orion (Mage Henchman), Stefan (Fighter Henchman), Reyna (Archer Henchman), Dunham (Enchanter Henchman).
Blade Operative Paulina
Hagen (Merchant)
Xunlai Agent (Storage)
Sanctum Cay (Cooperative Mission)
Możesz wejść na tą mapę korzystając z opcji "Enter Mission" w lokacji Sanctum Cay.
Mission: Deliver the Scepter of Orr to Vizier Khilbron and rendezvous with Evennia on the other side of the island. Locate the Vizier and deliver the Scepter. Make your way to the docks on the opposite side of the island. ADDED: You have been betrayed! Evennia has been taken. Meet the Vizier at the docks to make your escape. ADDED: Defend the Vizier while he summons a ship for you escape. Get on the boat when he is done. (Dostarcz Scepter of Orr do Vizier Khilbron i spotkaj się z Evennia z drugiej strony wyspy. DODATKOWO: Zostałeś zdradzony! Evennia została porwana. Spotkaj się z Vizier w dokach aby uciec z wyspy. DODATKOWO: Broń Viziera w czasie gdy ten przywołuje okręt do ucieczki. Wejdź na pokład gdy skończy). Nagroda: 1000 xp, 1 Skill Point.
*BONUS* Help the Restless Spirit find his final resting place. (Pomóż Restless Spirit znaleźć miejsce spoczynku). Nagroda: 1000 xp.
Po zakończeniu tej Misji uzyskasz dostęp do lokacji The Amnon Oasis .
01 Western Docks
Evennia - Wręcza ci Scepter of Orr (Item)
02 Bay
Restless Spirit
*BONUS* Help the Restless Spirit find his final resting place. (Pomóż Restless Spirit znaleźć miejsce spoczynku)
NONE: Aby ukończyć *BONUS* Quest tzrba zaprowadzić go najpierw do Vizier Khilborn, a następnie do rodzinnego grobowca na wschodniej części wyspy (06).
03 Gate
Użyj Lever aby otworzyć drzwi.
04 Temple
Vizier Khilborn
Zabiera ci Scepter of Orr i przywołuje kilka duchów do pomocy w dalszej walce. Niestety dość łatwo i szybko giną
05 Gate
NOTE: Brama otwiera soę po rozmowie z Vizier Khilborn.
06 Cementary
Miejsce spoczynku dla Restless Spirit (do *BONUS*)
07 Eastern Docks
Vizier Khilborn
NOTE: Teraz musisz chronić Vizier Khilbor gdy ten przywołuje statek. Jest to najtrudniejsza część tej misji. Wrogowie nadciągają z obu stron. Jeżeli wykonujesz to z henchmanami, spróbuj stanąć na plaży przed wejściem na kładkę i zabijaj wszystkich nadchodzących wrogów. Grupa graczy może podzielić się na dwa oddziały, które zwrócą się w przeciwnych kierunkach likwidując nacierających wrogów. Oczywiście należy stać wystarczająco blisko, żeby można się było wspierać w potrzebie
Gdy statek wreszcie zostanie przywołany, od razu wkrocz na pokład. Popłyniecie do The Amnon Oasis na Crystal Desert.