The Great Northern Wall (Mission) | Ascalon | Guild Wars Prophecies
poradnik Guild Wars: Prophecies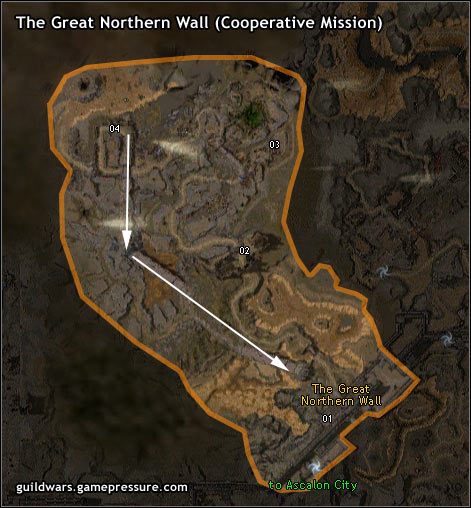 The Great Northern Wall
The Great Northern Wall to ostatnia linia obrony dwóch ocalałych miast Ascalonu przed atakującymi z północy armiami bestialskich Charrów. Pzred Kataklizmem, Northern Gate była dyplomatycznym wejściem przeznaczonym dla przyjmowania ważnych dygnitarzy. Teraz jest to kolejny przyczółek pilnowany przez armię Ascalonu oraz mieszkańców, którzy ochotniczo pełnią tu służbę wartowniczą.
Henchmen Level 3
Orion (Mage Henchman), Alesia (Healer Henchman), Reyna (Archer Henchman), Stefan (Fighter Henchman).
Squire Zachery (do Primary Quest: Defend the Wall)
Rolf (Merchant)
Xunlai Agent (Storage)
Zostało jeszcze 59% zawartości tej strony, której nie widzisz w tej chwili ...
... pozostała treść tej strony oraz tysiące innych ciekawych materiałów dostępne są w całości dla posiadaczy Abonamentu Premium
Abonament dla Ciebie