Dragon's Lair (Mission) | Crystal Desert | Guild Wars Prophecies
poradnik Guild Wars: Prophecies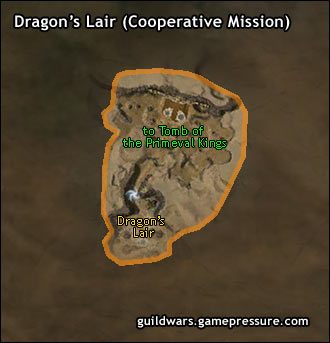 Dragon's Lair
Niełatwo znaleźć Glinta, wielkiego smoczego proroka, ponieważ używa ona potężnej magii by ukryć swe legowisko w jednym ziarenku piasku. Na szukaniu można by spędzić setki żywotów i nigdy nie znaleźć właściwego ziarenka. Jedyne prawdziwe wejście wiedzie przez ten portal, ukryty za Augury Rock.
Henchmen Level 20
Little Thom (Brawler Henchman), Claude (Cultist Henchman), Alesia (Healer Henchman), Orion (Mage Henchman), Stefan (Fighter Henchman), Reyna (Archer Henchman), Dunham (Enchanter Henchman), Lina (Protector Henchman).
Forgotten Gate Keeper
Shriava (Merchant)
Xunlai Agent (Storage)
Dragon's Lair (Cooperative Mission)
Możesz wejść na tą mapę korzystając z opcji "Enter Mission" w lokacji Dragon's Lair.
Mission: Gain audience with the prophet Glint. Defeat the Face of Light. Defeat the Face of Nature, Defeat the Face of Chaos. Defeat the Face of Darkness. Defeat the Face of Elements. Defeat the Face of Strength. (Uzyskaj audiencję z prorokiem Glint, Pokonaj Face of Light. Pokonaj Face of Nature, Pokonaj Face of Chaos. Pokonaj Face of Darkness. Pokonaj Face of Elements. Pokonaj Face of Strength). Nagroda: 1000 xp, 1 Skill Point.
*BONUS* Defeat Glint. (Pokonaj Glint). Reward: 1000 xp.
Po zakończeniu tej Misji uzyskasz dostęp do lokacji Droknar's Forge.
NOTE: Porozmawiaj z Forgotten Gate Keeper . Otworzy portal do pierwszego obszaru. Ta misja to łańcuch małych jaskiń połączonych portalami.
01
W pierwszej jaskini ubywa nam zdrowia.
02
W drugiej jaskini zostajemy spowolnieni.
03
Nie zauważyłem negatywnych czynników.
04
W czwartej jaskini ubywa nam energii.
05 Dragon Lair
W legowisku smoka spotkamy smoczycę Glint i jej jaja.
*BONUS* Defeat Glint. (Pokonaj Glint).
Po zakończeniu tej misji zostaniesz teleportowany do krasnoludzkiej fortecy Droknar's Forge w Southern Shiverpeaks.