Wiadomość
gry
29 grudnia 2018, 15:20
autor: Adrian Werner
Ujawniono najpopularniejsze gry na Steamie wśród użytkowników padów
Firma Valve udostępniła ciekawe zestawienia, prezentujące najpopularniejsze gry na Steamie wśród graczy korzystających z padów. Daje nam to również pojęcie, po które kontrolery tego typu najchętniej sięgają pecetowcy.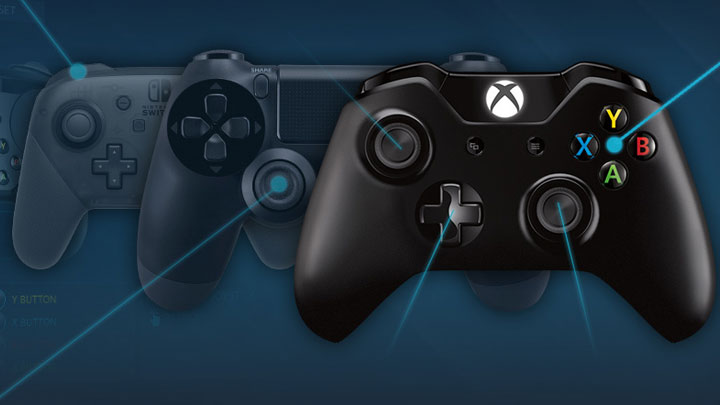 Najpopularniejsze wśród użytkowników Steama są pady do konsol Xbox.
Końcówka roku to tradycyjnie okres podsumowań. Wczoraj pisaliśmy o najpopularniejszych i najbardziej dochodowych produkcjach na Steamie w 2018 roku. Natomiast teraz dowiedzieliśmy się, jakie gry cieszyły się największym powodzeniem u graczy korzystających z padów. Przygotowano odrębne zestawienia dla użytkowników z kontrolerami z konsol Xbox, PlayStation i Nintendo Switch, oraz tych preferujących Steam Controller.
W przypadku każdego z tych urządzeń udostępniono dwie listy. Pierwsza obejmuje kilkadziesiąt ogólnie najpopularniejszych gier na danym padzie. Drugi typ zestawienia jest ciekawszy, gdyż prezentuje tytuły, które statystycznie były znacznie popularniejsze na jednym typie kontrolera niż na innych, nawet biorąc pod uwagę różnice w liczbie poszczególnych urządzeń będących w posiadaniu społeczności Steam. Sugeruje to, że wymienione produkcje mogą wyjątkowo dobrze działać na danym padzie lub też mieć problemy na pozostałych. Dzięki temu wiemy np., że DualShock 3 i DualShock 4 są szczególnie popularne wśród fanów bijatyk, podczas gdy Steam Controller dominuje w strategiach.
Z pada przynajmniej raz skorzystało ponad 36,7 mln użytkowników serwisu Steam. Jako ciekawostkę warto wspomnieć, że znalazło się również ok. 700 maniaków, którym udało się podłączyć do komputera matę taneczną. Studio Valve osobom tym poleca zwłaszcza gry Crypt of the NecroDancer oraz The Metronomicon.
Kolejność gier na poniższych listach jest przypadkowa. Valve przygotowało te zestawienia głównie po to, aby ułatwić posiadaczom różnych padów wybór produkcji najlepiej dopasowanych do ich kontrolerów.
Kontrolery Xbox
Najpopularniejsze gry 2018 roku wśród użytkowników kontrolerów Xbox
ARK: Survival Evolved
Assassin's Creed Odyssey
Assassin's Creed Origins
Borderlands 2
Brawlhalla
Dark Souls: Prepare to Die Edition
Dark Souls: Remastered
Dark Souls II: Scholar of the First Sin
Dark Souls III
Dead by Daylight
Dead Cells
Disgaea 5 Complete
Dragon Ball FighterZ
Dragon Ball Xenoverse 2
Dragon Quest XI: Echoes of an Elusive Age
Euro Truck Simulator 2
F1 2018
Fallout 4
Farming Simulator 17
Final Fantasy XV: Windows Edition
For Honor
Grand Theft Auto V
Hollow Knight
Kingdom Come: Deliverance
MapleStory 2
Metal Gear Solid V: The Phantom Pain
Middle-earth: Shadow of War
Monter Hunter: World
NBA 2K18
NBA 2K19
NieR:Automata
Nioh: Complete Edition
No Man's Sky
Pro Evolution Soccer 2019
Pro Evolution Soccer 2018
Rocket League
Shadow of the Tomb Raider
Soulcalibur VI
Stardew Valley
Street Fighter V
Tekken 7
The Binding of Isaac: Rebirth
The Elder Scrolls V: Skyrim Special Edition
The Elder Scrolls Online
The Witcher 3: Wild Hunt
Tom Clancy's Rainbow Six Siege
Yakuza 0
Warframe
Warriors Orochi 4
Produkcje grane na kontrolerach Xbox więcej niż na innych padach
Batman: Arkham City - Game of the Year Edition
Batman: Arkham Origins
Borderlands
Far Cry 4
Jurassic World Evolution
Just Cause 3
Mafia III
Saints Row IV
Sleeping Dogs: Definitive Edition
Sniper Elite 4
Spintires: MudRunner
The Crew
The Elder Scrolls V: Skyrim
Vampyr
Warhammer: Vermintide 2
Kontrolery PlayStation
Najpopularniejsze gry 2018 roku wśród użytkowników kontrolerów PlayStation
Assassin's Creed Odyssey
Assassin's Creed Origins
Brawlhalla
CrossCode
Cuphead
Dark Souls: Remastered
Dark Souls III
Dead by Daylight
Dead Cells
Disgaea 5 Complete
Dragon Ball FighterZ
Dragon Ball Xenoverse 2
Dragon Quest XI: Echoes of an Elusive Age
Euro Truck Simulator 2
F1 2018
Fallout 4
Final Fantasy XIV Online
Final Fantasy XV: Windows Edition
For Honor
Grand Theft Auto V
Hollow Knight
Let it Die
Lethal League Blaze
MapleStory 2
Monster Hunter: World
My Hero One's Justice
NBA 2K18
NBA 2K19
Ni no Kuni II: Revenant Kingdom
Nioh: Complete Edition
No Man's Sky
Overcooked! 2
Playerunknown's Battlegrounds
Pro Evolution Soccer 2018
Pro Evolution Soccer 2019
Resonance of Fate 4K / HD Edition
Rocket League
Shadow of the Tomb Raider
Soulcalibur VI
Street Fighter V
Tekken 7
The Binding of Isaac: Rebirth
The Elder Scrolls V: Skyrim Special Edition
The Witcher 3: Wild Hunt
Tom Clancy's Rainbow Six Siege
Yakuza 0
Warframe
Warriors Orochi 4
WWE 2K19
Produkcje grane na kontrolerach PlayStation więcej niż na innych padach
Counter-Strike: Global Offensive
BlazBlue: Cross Tag Battle
Final Fantasy XIV Online
Guilty Gear Xrd -REVELATOR-
La-Mulana 2
Labyrinth of Refrain: Coven of Dusk
Resonance of Fate 4K / HD Edition
Rocket League
SCUM
Soulcalibur VI
Street Fighter V
Tekken 7
Touhou Genso Wanderer -Reloaded-
Under Night In-Birth Exe: Late
Switch Pro
Najpopularniejsze gry 2018 roku wśród użytkowników kontrolerów Switch Pro
A Hat in Time
Assassin's Creed Odyssey
Brawlhalla
Call of Cthulhu
CrossCode
Dark Souls: Remastered
Dark Souls II: Scholar of the First Sin
Dark Souls III
Dead by Daylight
Dead Cells
Disgaea 5 Complete
Dragon Ball FighterZ
Dragon Quest XI: Echoes of an Elusive Age
Enter the Gungeon
Fallout 4
Final Fantasy XV: Windows Edition
For Honor
Grand Theft Auto V
Graveyard Keeper
Hollow Knight
La-Mulana 2
Let it Die
Lethal League Blaze
MapleStory 2
Mega Man 11
Metal Gear Solid V: The Phantom Pain
Monster Hunter: World
My Hero One's Justice
Naruto to Boruto: Shinobi Striker
Nioh: Complete Edition
NBA 2K19
Ni no Kuni II: Revenant Kingdom
NieR:Automata
No Man's Sky
Overcooked! 2
Pro Evolution Soccer 2019
Resonance of Fate 4K / HD Edition
Rivals of Aether
Rocket League
Shadow of the Tomb Raider
Soulcalibur VI
Stardew Valley
Tekken 7
The Witcher 3: Wild Hunt
The Binding of Isaac: Rebirth
Touhou Genso Wanderer -Reloaded
Yakuza 0
Warframe
Warriors Orochi 4
WWE 2K19
Produkcje grane na Switch Pro więcej niż na innych padach
A Hat in Time
Brawlout
CrossCode
Dragon Quest XI: Echoes of an Elusive Age
Groove Coaster
La-Mulana 2
Lethal League Blaze
Mega Man 11
Monster Hunter: World
My Hero One's Justice
Rivals of Aether
Slap City
Steven Universe: Save the Light
The Messenger
Timespinner
Steam Controller
Najpopularniejsze gry 2018 roku wśród użytkowników Steam Controller
ARK: Survival Evolved
Assassin's Creed Odyssey
Assassin's Creed Origins
Borderlands 2
Brawlhalla
CrossCode
Cuphead
Dark Souls: Prepare to Die Edition
Dark Souls: Remastered
Dark Souls II: Scholar of the First Sin
Dark Souls III
Dead Cells
Disgaea 5 Complete
Divinity: Original Sin 2 - Definitive Edition
Dragon Ball FighterZ
Dragon Quest XI: Echoes of an Elusive Age
Elite Dangerous
Euro Truck Simulator 2
Fallout 4
Farm Together
Final Fantasy XII: The Zodiac Age
Final Fantasy XV: Windows Edition
For Honor
Grand Theft Auto V
Hollow Knight
Kingdom Come: Deliverance
Lethal League Blaze
MapleStory 2
Middle-earth: Shadow of War
Monster Hunter: World
NBA 2K19
Ni no Kuni II: Revenant Kingdom
NieR:Automata
Nioh: Complete Edition
No Man's Sky
Rise of the Tomb Raider
Rocket League
Shadow of the Tomb Raider
Soulcalibur VI
Stardew Valley
Subnautica
The Binding of Isaac: Rebirth
The Elder Scrolls V: Skyrim
The Elder Scrolls V: Skyrim Special Edition
The Elder Scrolls Online
The Witcher 3: Wild Hunt
Overcooked! 2
Yakuza 0
Warframe
Warriors Orochi 4
Produkcje grane na Steam Controllerze więcej niż na innych padach
Battletech
Cities: Skylines
Darkest Dungeon
Factorio
Into the Breach
Pathfinder: Kingmaker
Pillars of Eternity
Pillars of Eternity II: Deadfire
RimWorld
Sid Meier's Civilization V
Sid Meier's Civilization VI
Stellaris
The Elder Scrolls IV: Oblivion Game of the Year Edition
Two Point Hospital
XCOM 2