Wiadomość
gry
25 sierpnia 2015, 12:00
autor: Kamil "Góral" Zwijacz
Rock Band 4 i Guitar Hero Live - zobacz ujawnione do tej pory utwory
Poznaliśmy kolejne utwory, które znajdziemy w grach Rock Band 4 (PlayStation 4 i Xbox One) i Guitar Hero Live (PlayStation 4, Xbox One, PlayStation 3, Xbox 360, Wii U). Obie produkcje ukażą się w październiku bieżącego roku.
W tym roku doczekamy się powrotu dwóch, niegdyś niesamowicie popularnych serii. Mowa o Rock Band 4 (PlayStation 4 i Xbox One) i Guitar Hero Live (PlayStation 4, Xbox One, PlayStation 3, Xbox 360, Wii U). W pierwszym przypadku deweloperzy ze studia Harmonix umożliwią zabawę przy użyciu zabawkowej gitary, perkusji oraz mikrofonu, a piosenki znajdujące się w sklepie Rock Band będą kompatybilne z najnowszą odsłoną. Z kolei w przypadku produkcji ze stajni Activision otrzymamy tylko gitarę (nowy, zmieniony model), a zamiast możliwości odgrywania zakupionych do wcześniejszych części utworów, dostaniemy platformę GHTV, w której publikowane będą oficjalne teledyski rozmaitych wykonawców, z możliwością ich odgrywania. W obu przypadkach pojawią się oczywiście nowe piosenki. W serwisie GameSpot zebrano (#1 i #2) ujawnione do tej pory kawałki.
W przypadku Guitar Hero Live wiemy już aż o 100 piosenkach:
A Day to Remember - "Right Back At It Again"
Alice in Chains - "Stone"
Alt-J - "Left Hand Free"
Alter Bridge - "Cry of Achilles"
American Authors - "Best Day of My Life"
Angus & Julia Stone - "A Heartbreak"
Anthrax - "Got the Time"
Architects - "Gravedigger"
Asking Alexandria - "The Final Episode"
The Avett Brothers - "Another is Waiting"
Band of Skulls - "Asleep at the Wheel"
Beartooth - "I Have A Problem"
Biffy Clyro - "Sounds Like Balloons"
The Black Keys - "Gold on the Ceiling"
Black Veil Brides - "In the End"
Blitz Kids - "Sometimes"
Blink 182 - "The Rock Show"
Bob Dylan - "Thunder on the Mountain"
Boston - "More Than A Feeling"
Bring Me The Horizon - "Shadow Moses"
Broken Bells - "Leave It Alone"
Bruno Mars - "The Lazy Song"
Bullet For My Valentine - "Temper Temper"
Calvin Harris - "Feel So Close"
Carrie Underwood - "Before He Cheats"
Catfish and the Bottlemen - "Kathleen"
Charlie XCX - "Famous"
Chevelle - "The Clincher"
Courtney Barnett - "Pedestrian at Best"
Cypress Hill ft. Tom Morello - "Rise Up"
Deap Vally - "Lies"
Deftones - "Diamond Eyes"
Disturbed - "Down with the Sickness"
Dream Theater - "The Looking Glass"
Dum Dum Girls - "Rimbaud Eyes"
Echosmith - "Cool Kids"
Ed Sheeran - "Sing"
Fall Out Boy - "My Songs Know What You Did In The Dark"
Foster the People - "Coming of Age"
Gary Clark Jr. - "Don't Owe You a Thang"
Green Day - "Nuclear Family"
Green Day - "American Idiot"
Halestorm - "Love Bites (So Do I)"
Iggy Pop - "Lust for Life"
In Flames - "Deliver Us"
Jake Bugg - "What Doesn't Kill You"
James Bay - "Hold Back The River"
Jet - "Are You Gonna Be My Girl?"
Judas Priest - "Breaking the Law"
Kasabian - "Club Foot"
The Killers - "When You Were Young"
Killswitch Engage - "In Due Time"
Kings of Leon - "Sex on Fire"
Kongos - "Come With Me Now"
Korn - "Freak on a Leash"
The Lumineers - "Ho Hey"
Marilyn Manson - "Disposable Teens"
Marmozets - "Move Shake Hide"
Mastodon - "High Road"
Megadeth - "Hangar 18"
MGMT - "Time to Pretend"
The Mowgli's - "San Francisco"
My Chemical Romance - "Na Na Na"
Neon Trees - "Everybody Talks"
New Politics - "Harlem"
Of Mice And Men - "Bones Exposed"
OneRepublic - "Counting Stars"
Panic! At the Disco - "Girls Girls Boys"
Pantera - "Cowboys from Hell"
Paramore - "Now"
Paramore - "Still Into You"
Passion Pit - "Take a Walk"
Pearl Jam - "Mind Your Manners"
Pierce the Veil - "King for a Day ft. Kellin Quinn"
The Pretty Reckless - "Going to Hell"
Queen - "Tie Your Mother Down"
Rage Against the Machine - "Guerrilla Radio"
Rage Against the Machine - "Bulls on Parade"
Red Hot Chili Peppers - "Higher Ground"
Rise Against - "Tragedy + Time"
The Rolling Stones - "Paint It Black"
Royal Blood - "Come On Over"
Royal Blood - "Little Monster"
Rush - "Limelight"
Skrillex - "Bangarang"
Sleigh Bells - "Bitter Rivals"
Soundgarden - "Been Away Too Long"
The Strokes - "Under Cover of Darkness"
Tenacious D - "Tribute"
Trivium - "Strife"
TV On The Radio - "Lazerray"
The Vines - "Metal Zone"
Vista Chino - "Sweet Remain"
The War on Drugs - "Under the Pressure"
Weezer - "Buddy Holly"
White Zombie - "Thunder Kiss '65"
Wolf Alice - "Moaning Lisa Smile"
Wolfmother - "Sundial"
You Me At Six - "Lived a Lie"
ZZ Top - "I Gotsta Get Paid"
Tracklista Rock Band 4, obejmująca obecnie 50 utworów, przedstawia się następująco:
.38 Special - "Caught Up In You"
4 Non Blondes - "What's Up?"
Aerosmith - "Toys in the Attic"
Arctic Monkeys "Arabella"
Avenged Sevenfold - "Hail to the King"
Benjamin Booker - "Violent Shiver"
Cake - "Short Skirt/Long Jacket"
Disturbed - "Prayer"
Dream Theater - "Metropolis - Part 1 - 'The Miracle And The Sleeper'"
Duck & Cover - "Knock 'Em Down"
Eddie Japan - "Albert"
Elvis Presley - "Suspicious Minds"
Fall Out Boy- "Centuries"
Fleetwood Mac - "You Make Loving Fun"
Foo Fighters - "The Feast and the Famine"
Halestorm - "I Miss The Misery"
Heart - "Kick It Out"
Heaven's Basement - "I Am Electric"
Jack White- "Lazaretto"
Judas Priest - "Halls Of Valhalla"
Lightning Bolt - "Dream Genie"
Little Big Town - "Little White Church"
Live - "All Over You"
Lucius - "Turn It Around"
Mark Ronson ft. Bruno Mars - "Uptown Funk"
Ozzy Osbourne - "Miracle Man"
Paramore - "Still Into You"
Queens of the Stone Age - "My God Is The Sun"
Rick Derringer - "Rock and Roll, Hoochie Koo"
Rush - "A Passage To Bangkok"
Scandal - "The Warrior"
Scorpions - "No One Like You"
Slydigs - "Light The Fuse"
Soul Remnants - "Dead Black (Heart of Ice)"
Soundgarden - "Superunknown"
Spin Doctors - "Little Miss Can't Be Wrong"
St. Vincent - "Birth In Reverse"
System of a Down - "Spiders"
The Black Keys - "Fever"
The Both - "Milwaukee"
The Cure - "Friday I'm In Love"
The Killers - "Somebody Told Me"
The Mighty Mighty Bosstones - "The Impression That I Get"
The Outfield - "Your Love"
The Protomen - "Light Up The Night"
The Who - "The Seeker"
Tijuana Sweetheart - "Pistol Whipped"
Van Halen - "Panama"
Van Morrison - "Brown Eyed Girl"
White Denim - "At Night In Dreams"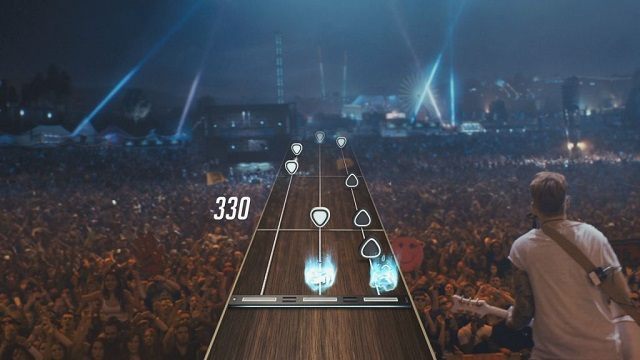 W Guitar Hero Live mamy mieć wrażenie uczestniczenia w prawdziwym koncercie.
Wraz z Guitar Hero Live otrzymamy nową wersją gitary, dysponującą sześcioma przyciskami, ułożonymi w dwóch rzędach. Ponadto zmieni się styl oprawy graficznej. Zamiast kreskówkowych muzyków, na ekranach telewizorów zobaczymy koncerty z udziałem prawdziwych aktorów, co ma potęgować wrażenie uczestniczenia w występie na scenie. Premiera gry odbędzie się 20 października bieżącego roku.
Rock Band 4, w odróżnieniu od Guitar Hero Live, nie będzie wymagało nowego instrumentu. Deweloperzy umożliwią korzystanie ze starych gadżetów, tyle że posiadacze Xboksa One zapłacą za grę o 20 dolarów więcej, gdyż tytuł wymagać ma specjalnego adaptera. Użytkownicy PlayStation 4 nie muszą martwić się o dodatkowe koszty. Tytuł zadebiutuje 6 października bieżącego roku.