Wiadomość
sprzęt i soft
16 marca 2016, 17:17
Sony zarobi na każdym egzemplarzu PlayStation VR
Adam Boyes, wiceprezes ds. wydawniczych i relacji z deweloperami w Sony, wyjawił, że firma nie będzie musiała dokładać do PlayStation VR i będzie zarabiać na każdym egzemplarzu od samego początku. Dodatkowo poznaliśmy listę deweloperów, którzy pracują nad grami przeznaczonymi na nowy gadżet.
W nocy informowaliśmy o szczegółach związanych z premierą (październik bieżącego roku) i ceną (399,99 euro – około 1715 złotych) PlayStation VR. W międzyczasie poznaliśmy kilka nowych ciekawostek na ten temat. W rozmowie z dziennikarzem Game Informera, Adam Boyes, wiceprezes ds. wydawniczych i relacji z deweloperami w Sony, wyjawił, że firma będzie zarabiać na urządzeniu już od momentu premiery. W wielu przypadkach producenci sprzętu dokładają na początku życia danego gadżetu, a straty odrabiają na dodatkowych peryferiach (np. na padach), grach itd. W tym przypadku gogle będą na tyle w tanie w produkcji, że pozwolą koncernowi na czerpanie zysków już na "dzień dobry". Boyes stwierdził, że:
"Cena nie została oparta na podstawie cen innych producentów. Oczywiście musimy zarabiać na każdej jednostce, na co wpływa fakt, że działamy w branży elektronicznej tak długo, że mamy możliwości docierania to wysokiej jakości części."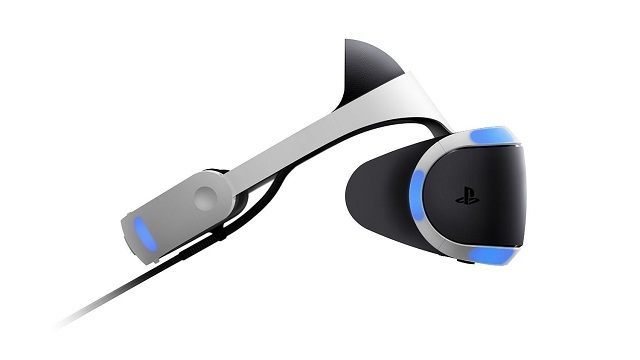 Przy okazji okazało się, że PlayStation VR już jest hitem, a przynajmniej to sugeruje informacja zamieszczona w Amazonie. Po rozpoczęciu sprzedaży pre-orderów sklep bardzo szybko pozbył się towaru. Obecnie można go znów zamawiać, ale firma zastrzega, że ze względu na limitowaną ilość egzemplarzy, można kupować tylko po jednej sztuce.
Na koniec zamieszczamy jeszcze listę deweloperów pracujących nad grami dla PlayStation VR.
Japonia (34 firmy):
ACQUIRE Corp.
Active Gaming Media Inc.
ARC SYSTEM WORKS CO.,LTD.
ATLUS
BANDAI NAMCO Entertainment Inc.
BANDAI NAMCO Studios Inc.
Bimboosoft
CAPCOM CO., LTD.
COLOPL, Inc.
Cygames, Inc.
D3 PUBLISHER Inc.
DIGITAL WORKS Entertainment Inc.
FromSoftware, Inc.
Gemdrops, Inc.
GRASSHOPPER MANUFACTURE INC.
GREE, Inc.
GungHo Online Entertainment, Inc.
IDEA FACTORY Co., Ltd.
KADOKAWA CORPORATION
Kadokawa Games, Ltd.
KOEI TECMO GAMES CO., LTD.
Konami Digital Entertainment Co., Ltd.
LEVEL-5 Inc.
MAGES.Inc
Marvelous Inc.
monobit Inc.
POLYGON MAGIC, INC.
SEGA Games Co., Ltd.
Solid Sphere, Inc.
Spike Chunsoft Co., Ltd.
SQUARE ENIX CO., LTD.
SUNCORPORATION,Inc.
wise Inc.
XING INC.
Azja (26 firm):
Beijing Phantomisreal Technical Co., Ltd.
Beijing SHI GUANG MENG HUAN Technology Ltd.
Beijing Wansiwei Culture Development Co., Ltd
Fighter Network Tech Co.,Ltd
Gamepoch, Inc.
Geronimo Interactive Co.,Ltd
Hangzhou Yuanqu Technology Co.Ltd.
Happy Elements
JOYCITY Corporation
NEKCOM ENTERTAINMENT
NetEase (Hangzhou) Network Co., Ltd
Ourpalm Co., Ltd
Perfect World Co., Ltd
ROI GAMES
Shanghai Famiku Co.,Ltd.
Shanghai Renyou network technology Limited
Shanghai SinceMe Network Technology
Shanghai XINDONG Network Corporation Limited
Skonec Entertainment
Suzhou Snail Digital Technology CO., Ltd
TianShe Media Co.,Ltd
Ultimate Creators Technology(Beijing)Co., Ltd
USERJOY Technology Co., Ltd.
Winking Entertainment Corporation
Xiamen Happiness Technology, Ltd., Co
XPEC Entertainment Inc.
Ameryka Północna (79 firm):
2K Games
4 Corner Games
Archiact Interactive Ltd.
Charm Games
Choice Provisions
Cloudhead Games
Cyan, Inc.
Devolver Digital
Double Fine Productions
Drool
Electronic Arts Inc.
E McNeill
Empty Clip Studios
Enhance Games
Enyx Studios
FarSight Studios
Finish Line Games
Fire Face
Fire Hose Games
Flippfly
Frame Interactive
Frima Originals
GameCoder Studios
Glass Bottom Games
Glowstick Games
Happy Dance Studios
Harmonix Music Systems, Inc.
Headless Chicken Games
Heavy Iron Studios
High Voltage Software, Inc.
Highwire Games
Hollow Games
Icosahedra
IMGNATION Studio
IN|Framez Technology Corp.
Innervision Games
Iris VR Inc.
KO_OP
Legendary
Limitless Ltd.
Madorium Interactive
Major League Baseball Advanced Media
Minority Media
Namazu Studios LLC
N-Fusion Interactive Entertainment
Niko Maki
No Goblin
Oddworld Inhabitants
OPQAM
Other Ocean
Otherworld Interactive
Owlchemy Labs
Phantom Compass
Pixel Ripped Inc
POLYTRON / KOKOROMI
PouncingKitten Games
Prologue Games
RalphVR
Refract
Reload Studios
Schell Games LLC
Skybound Interactive
Slice VR
Solus Games
Steel Crate Games
Sunken Places
The Stork Burnt Down
Three One Zero
TOTWISE
Truant Pixel
Turbo Button
Uber Entertainment
VirZOOM Inc.
VRMonkey
Warner Bros. Interactive Entertainment
WayForward Technologies, Inc
White Elk LLC
White Lotus Interactive, LLC
ZeroTransform
Europa i region PAL (92 firmy):
505 Games
Abstraction Games B.V.
Agharta Studio
Aldin Dynamics
Atom Universe Ltd
Auroch Digital
Avalanche Studios
Beatshapers Ltd.
Big Ant Studios
bitComposer Interactive GmbH
Bithell Games
Black Forest Games GmbH
BlitWorks
Blunt Instrument Studios
Boneloaf
Bossa Studios
Bulkhead Interactive
CCP Games
Chroma Coda
Climax Studios
Coatsink
Codemasters
Crytek
Dakko Dakko
Deck13 Interactive
Digital Confections
Dovetail Games
Escapist Games Ltd
Fabrik
Fierce Kaiju
Fireproof Games
FuturLab
Gaijin Entertainment
GOATi Entertainment Pty Ltd
Grip Digital s.r.o.
Hammerlabs
Hello There
Honor Code
Housemarque
Just Add Water (Development), Ltd
JUST FUNNY GAMES
Kite & Lightning
Llamasoft Ltd.
Lucid Games
MICROIDS
Milestone Srl.
Mindfield Games
Mint Games
MixedBag
narayana games
nDreams
Neko Entertainment
Ninja Theory
Nnooo
Nosebleed Interactive
Paw Print Games
Penny Black Studios
Pentadimensional Games
Poppermost Productions
Prideful Sloth
Psytec Games Ltd
Pub Games
Rebellion
Recluse Industries
Samurai Punk
Secret Sorcery Limited
Sigtrap
Simian Squared
Slightly Mad Studios Ltd
Sólfar Studios
Spunge Games Pty Ltd
StellarVR
Stirfire Studios
Sumo Digital Ltd
Tammeka
Tarsier Studios
TECHLAND
The Farm 51
Toxic Games
Triangular Pixels
Ubisoft
Untold Games
Vertigo Games
Virtual Toys
VR Bits
vTime Limited
Wales Interactive
White Paper Games
Wonderstruck
Zen Studios Ltd.
Zoë Mode
Zoink Games
Dodatkowo nad rozmaitymi narzędziami i oprogramowaniem pracują następujące firmy:
Allegorithmic
Audiokinetic
Autodesk
Amazon
Coherent Labs
CRI Middleware Co., Ltd.
Crytek
Epic Games
Firelight Technologies
Geomerics, an ARM company
Gigantic
Graphine
Live2D Inc.
Matchlock Corporation.
PopcornFX
RAD Game Tools
Silicon Studio Corporation
Umbra
Unity Technologies
Web Technology Corp.

Zapraszamy Was do polubienia profilu Newsroomu na Facebooku. Znajdziecie tam nie tylko najciekawsze wiadomości, ale i szereg miłych dodatków.