Diablo II: Lord of Destruction - Diablo II: Unforgiven v.3.4 - Mod do gry - Download
Plik Diablo II: Unforgiven v.3.4 to modyfikacja do gry Diablo II: Lord of Destruction z gatunku Gry RPG. Pobierz za darmo.
typ plikuModyfikacja do gry
rozmiar pliku54,7 MB
data aktualizacji15 stycznia 2018
pobrań174
pobrań (7 dni)35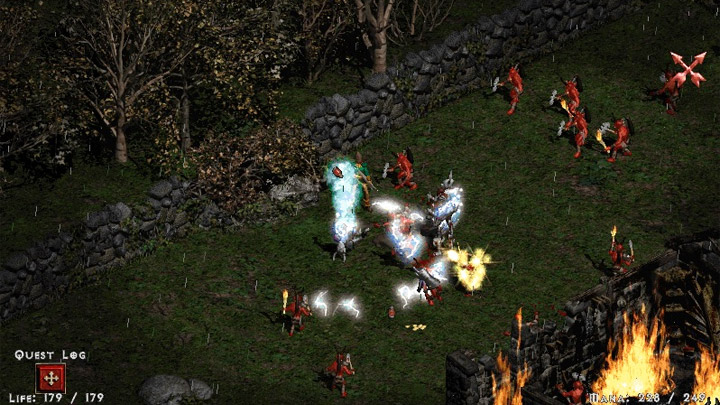 Diablo II: Unforgiven to modyfikacja do Diablo II: Lord of Destruction, której autorem jest EzRemade Modding.
Opis:
Celem moda jest urozmaicenie gry dla weteranów szukających czegoś odmiennego od standardowej wersji Diablo II: Lord of Destruction. Projekt gruntownie przebudowuje zbalansowanie rozgrywki, tak aby była bardziej wymagająca i różnorodna. Dodaje także masę nowych lokacji, lochów, typów wrogów oraz rodzajów przedmiotów.
Rozbudowano również mechanikę ulepszania przedmiotów, wprowadzono nowe klasy postaci oraz dodatkową zawartość tzw. end-game, czyli dostępną po zakończeniu kampanii. Ponadto zaimplementowano szereg małych zmian uprzyjemniających rozgrywkę, np. powiększono ekwipunek.
Instrukcje:
Wypakuj archiwum do folderu z grą i wyraź zgodę na podmianę plików.
Jeśli korzystasz z systemu Windows 7 lub nowszego, to możliwe, że będziesz musiał dodatkowo oblikować pliki dll. Sprawdź to klikając na nie prawym przyciskiem muszy, a potem sprawdzając we właściwościach. Jeśli nie ma tam takiej opcji to masz już ją aktywowaną i nic więcej nie musisz robić.
Niedziałające pliki prosimy zgłaszać na uwagi(at)gry-online.pl