WiedŸmin 3: Dziki Gon - E3FX v.12 - Mod do gry - Download
Plik E3FX v.12 to modyfikacja do gry WiedŸmin 3: Dziki Gon z gatunku Gry RPG. Pobierz za darmo.
typ plikuModyfikacja do gry
rozmiar pliku21,6 MB
data aktualizacji18 marca 2017
pobrań2038679
pobrań (7 dni)159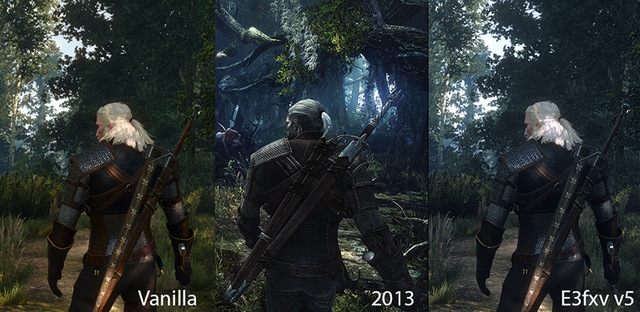 E3FX to modyfikacja do WiedŸmin 3: Dziki Gon, opracowana przez Drogean. To przeróbka graficzna, której celem jest odtworzenie atmosfery i stylu widocznych w zwiastunie gry z 2013 roku. Ostateczna wersja produkcji okazała się bowiem znacznie bardziej kolorowa i mniej ostra, co nie wszystkim musi przypaœć do gustu.
Projekt zwiększa kontrast, obniża intensywnoœć kolorów, wprowadza wyostrzanie obrazu oraz efekty SMAA i Bloom.
Aby zainstalować moda: wypakuj archiwum tam, gdzie jest plik WITCHER.exe, np.:
C:\Program Files (x86)\Steam\steamapps\common\The Witcher 3\bin\x64
C:\GOG Games\The Witcher 3 Wild Hunt\bin\x64\witcher3.exe
C:\Program Files\GOG\The Witcher 3 Wild Hunt\bin\x64\
Zalecane ustawienia graficzne w menu gry to:
Gamma 1
HBAO
AA Disabled
Sharpening Off or Low
Chromatic Aberration Off
Vignette Off
Sun Shafts On
Bloom On
Niedziałajšce pliki prosimy zgłaszać na uwagi(at)gry-online.pl