To Grandmother's House We Go | Misje poboczne - Eridium Blight | Borderlands 2
Borderlands 2 poradnik, solucja
Na tej stronie poradnika do gry Borderlands 2 znajduje się szczegółowy opis przejścia pobocznej misji To Grandmother's House We Go. Quest ten możesz rozpocząć w lokacji Eridium Blight w trakcie zaliczania głównego zadania Toil and Trouble.
Eridium Blight
1) Tablica z zadaniami
2) Domek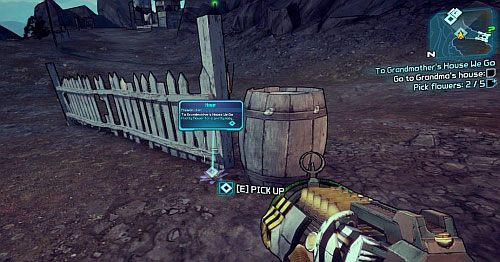 Z tablicy [1], otrzymasz kolejne zadanie. Droga do domku oznaczona jest kropkami. Kiedy dojedziesz do celu, zbierz pięć Flower w drodze do celu [2], by otrzymać dodatkowe punkty doświadczenia.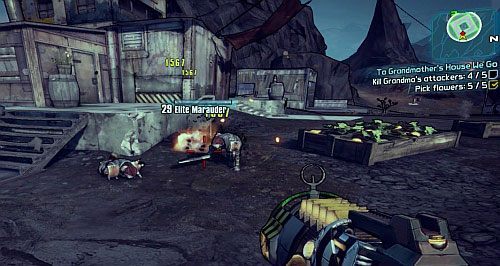 Kiedy dojdziesz do domku [2], zostaniesz zaatakowany przez grupę Bandytów. Zabij wszystkich przeciwników i wejdź do środka budynku (wejście znajduję się po drugiej stronie). W pokoju zastaniesz jedynie Goliatha. Kiedy się go pozbędziesz, z łóżka podnieś Grandma's Buzz Axe. Teraz możesz wrócić do tablicy [1], by odebrać nagrodę.