Enter The Matrix - poradnik do gry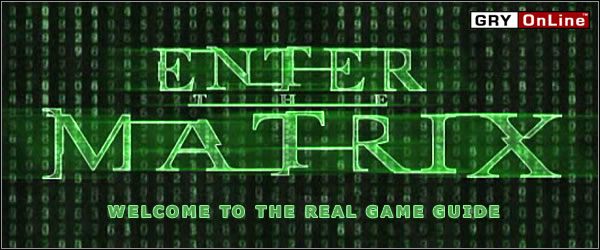 Enter the Matrix to ciekawa gra akcji, niezawierająca, co prawda, żadnych innowacyjnych elementów, ale oferująca to, co gracze lubią najbardziej - szybką, na niższych poziomach trudności nawet zupełnie bezstresową zabawę. Ta gra jest pewnym rozwinięciem fabuły filmu Matrix: Rewolucje i zawiera kilka ciekawych opowieści, wyjaśniających co nieco rozgrywające się w nim wydarzenia.
Poradnik jest opisem przejścia gry krok po kroku na najwyższym poziomie trudności, prowadzącym za rączkę od początku do końca opowieści. Zawarłem w nim porady dla obu głównych bohaterów - Niobe oraz Ghosta, wraz z ich nieco odmienną drogą prowadzącą do celu. Mam nadzieję, że znajdziecie w nim odpowiedź na każdy Wasz problem związany z tą grą.
Informacje

o Enter The Matrix - poradnik do gry

Autor : Piotr Zodiac Szczerbowski

Ostatnia aktualizacja : 1 sierpnia 2016

Poradnik zawiera : strony: 82, ilustracje: 348 .

Skorzystaj z funkcji komentarzy do wskazania błędów lub uzupełnienia poradnika.
Popularne strony

w Enter The Matrix - poradnik do gry