3:10 to Kaboom | Misje poboczne - Lynchwood | Borderlands 2
Borderlands 2 poradnik, solucja
Na tej stronie poradnika do gry Borderlands 2 znajduje się szczegółowy opis przejścia pobocznej misji 3:10 to Kaboom. Quest ten możesz rozpocząć w lokacji Lynchwood w trakcie zaliczania pobocznego zadania The Bane.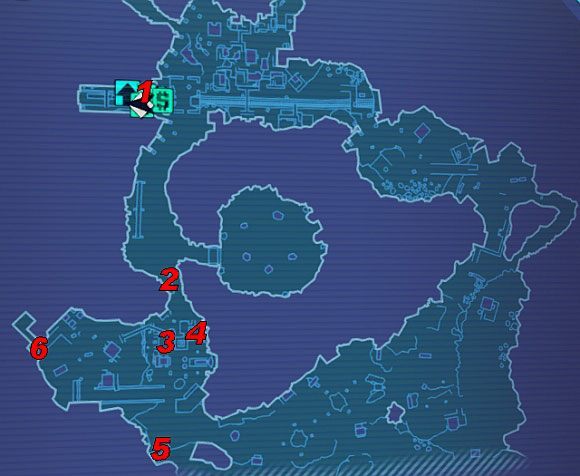 Lynchwood
1) Tablica z zadaniami
2) Rafineria
3) Dźwignia
4) Wagonik z ładunkiem wybuchowym
5) Tory
6) Detonator
Użyj tablicy z zadaniami [1], by otrzymać misję. Teraz udaj się na teren rafinerii [3]. By tam się dostać, skorzystaj z windy [2]. Na górze ruszy licznik i na wykonanie wszystkich czynności będziesz miał pięć minut. Zacznij od Użycia dźwigni pokazanej na obrazku.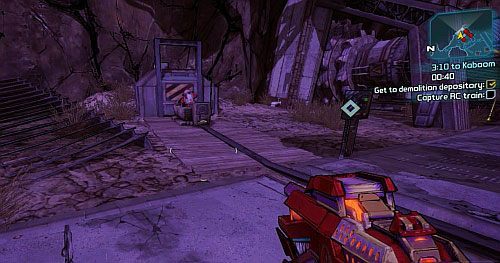 Następnie naciśnij przycisk, za Twoimi plecami. Za chwilę podjedzie wagonik z ładunkiem wybuchowym [4], pokazany na obrazku, który zabierz.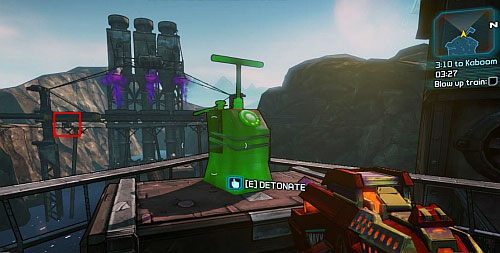 Z ładunkiem, udaj się na torowisko oznaczone numer [5]. Postaw ładunek w wyznaczonym miejscu. Teraz biegnij do detonatora [6]. Zaczekaj, aż wagonik z ładunkiem znajdzie się pod pociągiem (kwadrat), a następnie go zdetonuj. Teraz możesz wrócić do tablicy [1] i zakończyć zadanie.