Call of Duty: Modern Warfare Remastered PC
Odświeżona wersja słynnego FPS-a z 2007 roku. Deweloperzy zatroszczyli się przede wszystkim o całkowicie odnowioną oprawę graficzną, z teksturami o wyższej rozdzielczości, nowymi animacjami, lepszym oświetleniem i nie tylko. Dodatkowo ulepszono także udźwiękowienie.
Akcji, FPP, terroryzm, współczesne konflikty, FPS, multiplayer, reedycje\remastery\remaki, kooperacja, strzelanki.
wersja językowa:
polska i angielska
Data premiery gry Call of Duty: Modern Warfare Remastered | PC
4listopada2016
4listopada2016
premiera PL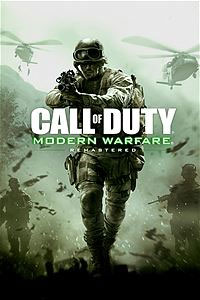 W momencie zapowiedzi gry Call of Duty: Infinite Warfare firma Activision ujawniła także Call of Duty: Modern Warfare Remastered przeznaczone na komputery osobiste. Tytuł dołączany jest jako bonus do edycji specjalnych (Legacy Edition i Digital Legacy Edition, Digital Deluxe Edition i Legacy Pro Edition) nowego CoD-a. Jak sama nazwa wskazuje, jest to zremasterowane wydanie słynnego FPS-a Call of Duty 4: Modern Warfare, który ukazał się w 2007 roku na konsolach PlayStation 3, Xbox 360, Wii, Nintendo DS oraz PC-tach. Oryginał został stworzony przez Infinity Ward – ekipę odpowiedzialną także za część pierwszą i drugą, Ghosts oraz trzy odsłony Modern Warfare. Odświeżona wersja nie jest jednak ich samodzielnym dziełem, gdyż w pracach pomagała również ekipa Raven Software.
Choć Call of Duty: Modern Warfare Remastered zadebiutowało także na konsolach Xbox One i PlayStation 4, to wszystkie wersje są praktycznie takie same. Niewielkich różnic można się doszukać w oprawie graficznej, ale jeżeli chodzi o rozgrywkę, zawartość, dostępne tryby, mapy itd., to każda edycja jest identyczna.
Fabuła
W Call of Duty: Modern Warfare Remastered bierzemy udział w fikcyjnym konflikcie z przełomu XX i XXI wieku. Świat targany jest działaniami terrorystów, ale tak naprawdę za wszystkim stoi rosyjski skrajny nacjonalista Imran Zachajew, który wykorzystując zamieszanie stara się odwrócić uwagę mocarstw od próby zagarnięcia władzy w ojczyźnie. W poszczególnych misjach, gracze przejmują kontrolę nad różnymi żołnierzami (m.in. John "Soap" MacTavish z SAS czy też John Price) i wykonują zadania w rozmaitych zakątkach globu.
Mechanika
Call of Duty: Modern Warfare Remastered to pierwszoosobowa, widowiskowa strzelanka. Rozgrywka w niej nie odbiega właściwie niczym od tego, z czym mieliśmy do czynienia w oryginale, więc podczas kolejnych zadań trafiamy na pokład statku, uczestniczymy w słynnej skradankowej misji, prowadzimy ostrzał z pokładu samolotu AC-130 itd. Poszczególne poziomy są liniowe i napędzane przez oskryptowane akcje oraz odradzających się przeciwników.
Tryby gry
Oprócz kampanii fabularnej, w Call of Duty: Modern Warfare Remastered znalazł się także multiplayer. Odpowiada on temu, co widzieliśmy w pierwotnym wydaniu, ale deweloperzy odświeżyli tylko 10 najpopularniejszych map, w tym Crash, Backlot i Crossfire. Gra uwzględnia pięć znanych z pierwowzoru trybów rozgrywki.
Kwestie techniczne
O ile w samej rozgrywce nie zaszły niemal żadne zmiany, tak jeżeli chodzi o oprawę graficzną Call of Duty: Modern Warfare Remastered na PC Windows to praktycznie nowa gra, gdyż zatroszczono się o tekstury w wyższej rozdzielczości, nowe animacje, udoskonalone oświetlenie i cieniowanie. Poza tym wszystkim ulepszono udźwiękowienie.
Tryb gry: single / multiplayer Tryb multiplayer: Internet
0 Ocena gry 7.1 / 10 na podstawie 260 ocen czytelników.
Oczekiwania czytelników przed premierą gry: 8.4 / 10 na podstawie 283 głosów czytelników.
Cena gry w dniu premiery: 229,90 PLN
Gry podobne do
Call of Duty: Modern Warfare Remastered
Klasyfikacja PEGI
Call of Duty: Modern Warfare Remastered


Wymagania sprzętowe
Call of Duty: Modern Warfare Remastered
Minimalne: Intel Core i3-530 2.93 GHz, 6 GB RAM, karta grafiki 1 GB GeForce GTS 450 / Radeon HD 7850 lub lepsza, Windows 7/8/8.1/10 64-bit