BattleTech - Civil War Tech – Weapons v.0.9.2.1 - Mod do gry - Download
Plik Civil War Tech – Weapons v.0.9.2.1 to modyfikacja do gry BattleTech z gatunku Gry Strategiczne. Pobierz za darmo.
typ plikuModyfikacja do gry
rozmiar pliku233,1 KB
pobrań421
pobrań (7 dni)5
data aktualizacji5 grudnia 2018
Niedziałające pliki prosimy zgłaszać na uwagi(at)gry-online.pl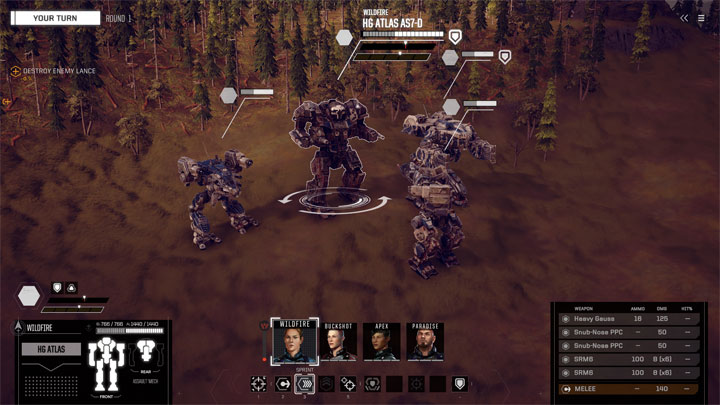 Civil War Tech – Weapons to modyfikacja do BattleTech, której autorem jest Norinvaux.
Opis:
Mod dodaje do gry spory zestaw nowego sprzętu. Obejmuje to dodatkowe uzbrojenie, pancerze i podzespoły do zamontowania w mechach.
Cały ten sprzęt pochodzi z tzw. Ery Wojny Domowej, czyli jednego z najpopularniejszych wśród fanów okresu w historii uniwersum. Gra BattleTech osadzona jest w innych czasach i dlatego wielu graczom brakowało ulubionego żelastwa. Ten mod to zmienia.
Instrukcje:
1.Wypakuj archiwum. Uzyskasz w ten sposób folder "BattleTech_Data" i plik VersionManifest.csv.
2. Skopiuj ""BattleTech_Data" do głównego folderu z grą i wyraź zgodę na podmianę plików.
3.Skopiuj VersionManifest.csv do "into /BATTLETECH/BattleTech_Data/StreamingAssets/data".
4.Jeśli korzystasz z więcej niż jednego moda, to otwórz za pomocą Notepad++ plik VersionManifest.csv i dodaj w nim następujące linijki:
Weapon_Gauss_Heavy_0-STOCK,WeaponDef,mods/CWTech/weapon/Weapon_Gauss_Heavy_0-STOCK.json,15,2018-02-27T00:45:29.0165247Z,2018-03-08T06:30:12.1199085Z,,,False,0,False
Weapon_Gauss_Light_0-STOCK,WeaponDef,mods/CWTech/weapon/Weapon_Gauss_Light_0-STOCK.json,15,2018-02-27T00:45:29.0165247Z,2018-03-08T06:30:12.1199085Z,,,False,0,False
Weapon_PPC_Snub_0-STOCK,WeaponDef,mods/CWTech/weapon/Weapon_PPC_Snub_0-STOCK.json,15,2018-02-27T00:45:29.0165247Z,2018-03-08T06:30:12.1199085Z,,,False,0,False
Weapon_PPC_Heavy_0-STOCK,WeaponDef,mods/CWTech/weapon/Weapon_PPC_Heavy_0-STOCK.json,15,2018-02-27T00:45:29.0165247Z,2018-03-08T06:30:12.1199085Z,,,False,0,False
Weapon_PPC_Light_0-STOCK,WeaponDef,mods/CWTech/weapon/Weapon_PPC_Light_0-STOCK.json,15,2018-02-27T00:45:29.0165247Z,2018-03-08T06:30:12.1199085Z,,,False,0,False
Weapon_Autocannon_UAC2_0-STOCK,WeaponDef,mods/CWTech/weapon/Weapon_Autocannon_UAC2_0-STOCK.json,15,2018-02-27T00:45:29.0165247Z,2018-03-08T06:30:12.1199085Z,,,False,0,False
Weapon_Autocannon_UAC5_0-STOCK,WeaponDef,mods/CWTech/weapon/Weapon_Autocannon_UAC5_0-STOCK.json,15,2018-02-27T00:45:29.0165247Z,2018-03-08T06:30:12.1199085Z,,,False,0,False
Weapon_Autocannon_UAC10_0-STOCK,WeaponDef,mods/CWTech/weapon/Weapon_Autocannon_UAC10_0-STOCK.json,15,2018-02-27T00:45:29.0165247Z,2018-03-08T06:30:12.1199085Z,,,False,0,False
Weapon_Autocannon_UAC20_0-STOCK,WeaponDef,mods/CWTech/weapon/Weapon_Autocannon_UAC20_0-STOCK.json,15,2018-02-27T00:45:29.0165247Z,2018-03-08T06:30:12.1199085Z,,,False,0,False
Weapon_MachineGun_LightMG_0-STOCK,WeaponDef,mods/CWTech/weapon/Weapon_MachineGun_LightMG_0-STOCK.json,15,2018-02-27T00:45:29.0165247Z,2018-03-08T06:30:12.1199085Z,,,False,0,False
Weapon_MRM_MRM10_0-STOCK,WeaponDef,mods/CWTech/weapon/Weapon_MRM_MRM10_0-STOCK.json,15,2018-02-27T00:45:29.0165247Z,2018-03-08T06:30:12.1199085Z,,,False,0,False
Weapon_MRM_MRM20_0-STOCK,WeaponDef,mods/CWTech/weapon/Weapon_MRM_MRM20_0-STOCK.json,15,2018-02-27T00:45:29.0165247Z,2018-03-08T06:30:12.1199085Z,,,False,0,False
Weapon_MRM_MRM30_0-STOCK,WeaponDef,mods/CWTech/weapon/Weapon_MRM_MRM30_0-STOCK.json,15,2018-02-27T00:45:29.0165247Z,2018-03-08T06:30:12.1199085Z,,,False,0,False
Weapon_MRM_MRM40_0-STOCK,WeaponDef,mods/CWTech/weapon/Weapon_MRM_MRM40_0-STOCK.json,15,2018-02-27T00:45:29.0165247Z,2018-03-08T06:30:12.1199085Z,,,False,0,False
data aktualizacji: 5 grudnia 2018
kategoria gry: Strategiczne
rozmiar pliku: 233,1 KB