Sins of a Solar Empire: Rebellion - Stars v.3.89 - Mod do gry - Download
Plik Stars v.3.89 to modyfikacja do gry Sins of a Solar Empire: Rebellion z gatunku Gry Strategiczne. Pobierz za darmo.
typ plikuModyfikacja do gry
rozmiar pliku259,5 MB
pobrań2000
pobrań (7 dni)14
data aktualizacji13 stycznia 2022
Niedziałające pliki prosimy zgłaszać na uwagi(at)gry-online.pl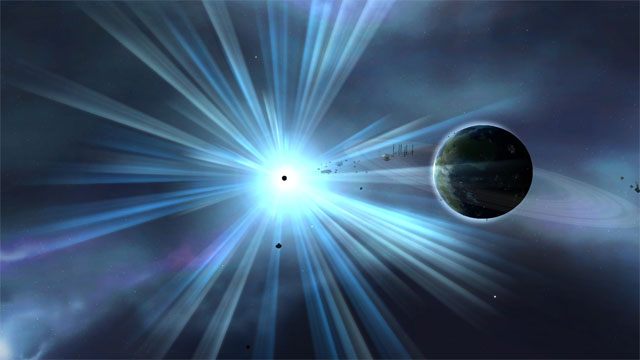 Stars to modyfikacja do Sins of a Solar Empire: Rebellion, której autorem jest Aplos.
Opis:
Projekt przerabia mapy galaktyczne generowane przez grę. Dzięki niemu stają się bardziej realistyczne i skomplikowane. Słońca mają więcej krążących wokół nich planet, a poszczególne systemy są ze sobą ściślej połączone.
Wszystko to sprawia, że gra staje się ciekawsza, a jednocześnie wygląda ładniej.
Aby zainstalować moda:
1.Wypakować archiwum do katalogu na mody (zazwyczaj* jest to "My Documents/My Games/Ironclad Games/Sins of a Solar Empire Rebellion/Mods-Rebellion 1.80") i zgodzić się na nadpisanie plików.
2.Aktywować moda w menu grze. * - Jeśli nie będziecie mogli znaleźć katalogu z modami, to uruchomcie grę, wejdźcie w Opcje (ang. Options), wybierzcie Mods i kliknijcie na "Show Mod Path".
3.Uwaga, wykonanie tego wyłączy wszystkie inne mody. Jeśli chcecie potem do nich powrócić, to musicie wgrać do katalogu właściwy im plik EnabledMods.txt
data aktualizacji: 13 stycznia 2022
kategoria gry: Strategiczne
rozmiar pliku: 259,5 MB