The Settlers 7: Droga do Królestwa - aktualizacja do gry wersja - v.1.09+ - v.1.12 - Download
Uaktualnienie (patch) do gry The Settlers 7: Droga do Królestwa z gatunku Gry Strategiczne, wersja v.1.09+ - v.1.12, data publikacji 21 kwietnia 2011.
typ plikuAktualizacja do gry
rozmiar pliku566 MB
pobrań4237
pobrań (7 dni)0
data aktualizacji21 kwietnia 2011
Niedziałające pliki prosimy zgłaszać na uwagi(at)gry-online.pl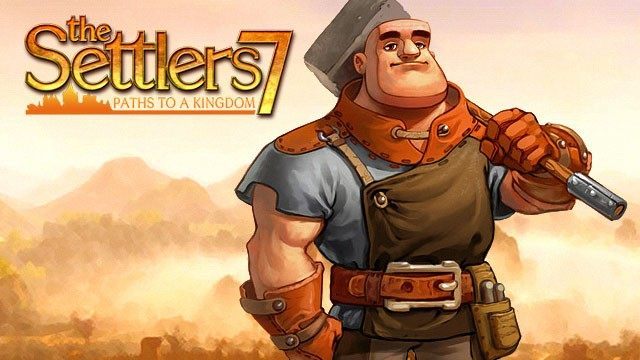 wersja: v.1.09+ - v.1.12
Patch do gry The Settlers 7: Droga do Królestwa. Poniżej anglojęzyczny opis aktualizacji:
Let's start with the patch: First of all, the patch offers a new Coop-mode that's available for all skirmish- and multiplayer maps.
A BRAND NEW COOPERATIVE GAME MODE:
* Allies can donate sectors to the team partner.
* Allies can send resources and goods to the team partner.
* Allies share technologies with the team partner.
* Allies share tradeposts with the team partner.
* Allies share victory points and all calculations, that count towards gaining victory points.
OTHER IMPROVEMENTS:
* Allies can mark locations on the map by holding CTRL while pressing the left mouse button. Marking a neutral or hostile sector this way will increase the likeliness that an allied AI will attack that sector. This effect can be increased by setting more markers.
* New AI Player: Fieldmarshal Ludowig (Military/Church/Trade).
* Slight performance improvements for multi-player matches.
* More reliable ranking in empire mode.
Sound notification before an empire game starts.
* Recently started multi-player games are now displayed in the multi-player game list for a while.
BUG FIXES:
* Fixed an UI bug were 2 Generals blocked each other.
* Fixed a bug on Eternal city where the player is captured in the middle sector if he chooses to play after victory.
* Fixed a bug where the maps for two and three players were incorrectly displayed as unlocked if the players filter is changed.
* Fixed a bug with the camera barrier at the map border on the skirmish map Monhaim Valley.
* Fixed a bug due to which the teammates didn't see the "Free Pass" sign.
NEW CONTENT:
Enjoy the tenth and twelfth campaign map, optimized for skirmish and multiplayer
* SEENBACH
On the icy coast of Seenbach, three rulers fight for domination. It may be beneficial to choose your strategy wisely depending on your starting position. Ports and a marketplace offer rich trades to complement your economy. Utilize the Cannon Foundries to supply your armies. The ruler who conquers the central town sector will be awarded with a victory point. Visit the White Castle on the coastal cliffs or the Laboratory inside the meteorite crater to gain an advantage over your competitors.
* DRAKENAU
Four Kings fight for domination. Once upon a time Drakenau was a fertile and friendly realm. But now it is a devastated land, dominated by numerous volcanoes surrounding the barren plains and hills. There are no fish and only limited fertile soil. Adapt your strategy. To overcome your opponents it may be helpful to visit the gigantic Volcano, the Field of Mandrakes, the Ancient Library, the Dark Fortress or the Enchanted Tower. There are two large towns which offer a victory point each when conquered. Expand to the Cannon Foundry to support your army. Several marketplaces can be found, which may help to complement your economy with trading.
There's more: Finally, the brand new DLC 4 - The Two Kings will go live today, 6PM (CET)! Those who purchased the Gold Edition of the game will have immediate access to all the features of DLC 4. For everybody else, the DLC will be available at the UbiShop. Let's look at the new contents that DLC 4 offers you:
A NEW 2 PLAYERS MAP:
* FOREST REALM
The Forest Realm is located in a wide open mountain valley marked by thick forests and very spacious meadows. Two kings face each other on opposing sides of the valley. The king-sized home sectors are characterized by central marketplaces, where you can increase your wealth
* 2 player map with 42 sectors
* Victory Point Setup: 20
2 NEW MAPS EXCLUSICELY DONE FOR THE BARND NEW COOPERATIVE MODE:
* TOWER ISLAND
Welcome to Tower Island. This is a menacing place, where four rulers challenge each other. The island is dominated by the central Tower of Tandria. Gaining access to the tower may be key to your success. Distances to your opponents are very short, so keep an eye on your defense
* 4 players map with 37 Sectors
* Victory Point Setup: 25
* THRONE OF TANDRIA
In this realm two teams compete for the Throne of the King. There are different starting conditions, so adapt your strategy according to your position. One Ruler has access to plenty of fertile building ground, but has only few mines in his reach. The other ruler has access to plenty of mines, but only limited fertile ground.
* Team 2 vs. 2 map with 39 sectors
* Victory Point Setup: 22
NEW EVENT LOCATION:
* TRONE OF TANDRIA
Throne of Tandria offers a victory point for trading quest, free passage for military quest and an additional Ghost General for church quest
3 NEW VICTORY POINTS
* Pacifist, Economist, Ascetic
6 NEW ECOBUILDINGS
* Infernal Mines, Order of Knights, Ceremonial Fairground, Royal Slaughterhouse, Whaling Station, Crypt
data aktualizacji: 21 kwietnia 2011
kategoria gry: Strategiczne
rozmiar pliku: 566 MB