Miejsca do łowienia i ryby w Final Fantasy XV
Gdzie najlepiej łowić ryby?
Łowiska i ryby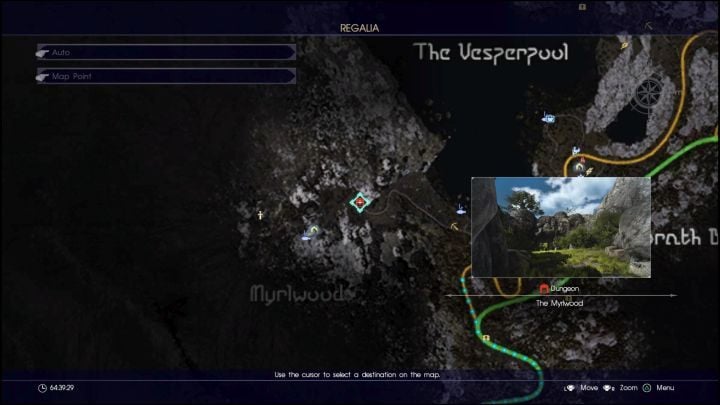 The Vesperpool to miejsce, gdzie bardzo łatwo rozwinąć zdolność Fishing.
Kilka słów odnośnie tabeli:
Komórka "SP" mówi ile punktów do rozwoju zdolności Fishing da złowienie danej ryby.
Komórka "AP" mówi ile dodatkowych AP otrzymasz za złowienie ryby, jeśli odblokowana została zdolność Sportfishing z drzewka Exploration.
Komórka "Rzadkość" oznacza po prostu szansę na to, iż na łowisku uda ci się znaleźć akurat tą rybę. C to najbardziej powszechne ryby, które da się łowić praktycznie hurtowo, od A zaczynają się ryby, które uda ci się "wyhaczyć" bardzo rzadko. Z rzadkością powiązana jest także wytrzymałość samych ryb - im rzadsza ryba, tym trudniej będzie ci ją złowić.
W tabeli nie ma informacji o tym, ile dana ryba da ci punktów doświadczenia po złapaniu. Spowodowane jest to tym, iż ilość doświadczenia jest śmiesznie mała (500-600 punktów za łowienie naprawdę rzadkich i mocnych ryb), a do tego wymaga odblokowania dodatkowych zdolności z drzewka Exploration.
Tabela przedstawia ryby w kolejności zgodnej z ich trudnością złapania i powszechnością. Im niżej w tabeli, tym ryba rzadsza i mocniejsza.
Ryba

Łowisko

Przynęta

Przedmiot

SP

AP

Rzadkość

Horned Bluegill

Crestholm Reservoir, Neeglyss Pond, Swainsmere, Forgotten Pool

Dowolna

Bluegill Scale

3

-

C

Chipped Bluegill

Neeglyss Pond, Swainsmere, Forgotten Pool, Rachsia Bridge

Dowolna

Bluegill Scale

3

-

C

Alstor Bass (small)

Crestholm Reservoir, Swainsmere, Malacchi Pond, Daurell Spring, Rachsia Bridge

Bomber: Bomb

Jumbo Tusk: Garulessa

Fatal Roulette: Ahriman

Alstor Bass Bones

3

-

C

Cygillan Sea Bas (small)

Gondola Marina

Stormer: Focalor

Stormer: Chert Focalor

Sea Bass Fillet

3

-

C

Rainbow Trout (small)

Forgotten Pool, River Wennath, The Maidenwater

Tidal Might Leviathan

Knife T. Tonberry

Whiskers: Pearly Moogle

Trout Fillet

3

-

D

Giant Trevally (small)

Vannath Coast

Poppeck: Chocobo

Sweet Jamming: Flan

Tidal Might Leviathan

Giant Trevally Fillet

3

-

B

Glowing Barrelfish

Vannath Coast

Fatal Roulette: Floating Eye

Barrelfish Scales

3

-

C

Nebula Salmon

Rachsia Bridge, The Maidenwater

Hot Breather: Green Dragon

Hot Breather: Blue Dragon

Knife T. Tonberry

Big Blaze Bahamut

Nebula Salmon Fillet

3

-

B

Snakehead

Malacchi Pond, Daurell Spring

Poppeck: Chocobo

Snakehead Teeth

5

-

C

Cherrycomb Trout

River Wennath

Whiskers: Crystal

Trout Fillet

5

-

C

Glimmering Bluegill

The Versperpool - East Bank The Vesperpool - West Bank

Dowolna

Bluegill Scale

5

-

B

Lucian Catfish

Crestholm Reservoir, Neeglyss Pond, Swainsmere, Malacchi Pond

Needle 1,000: Cactuar

Needle 1,000: Metallicactuar

Catfish Barbel

5

-

C

Cleigne Brown Trout (small)

Myrlwood Falls

Burrower: Mad Pink Sandworm

Burrower: Abyss Worm

Trout Fillet

5

-

B

Maiden Brook Trout

The Maidenwater, Myrlwood Falls

Deadly Waters: Sahagin

Trout FIllet

5

-

A

Galdin Trevally

Vannath Coast

Sweet Jamming: Mousse

Giant Trevally Fillet

5

-

B

Alstor Bass (big)

Crestholm Reservoir, Neeglyss Pond, Swainsmere, Malacchi Pond, Daurell Spring, Rachsia Bridge

Bomber: Bomb

Jumbo Tusk: Garulessa

Fatal Roulette: Ahriman

Alstor Bass Bones

8

-

C

Cygillan Sea Bass (big)

Gondola Marina

Stormer: Focalor

Stormer: Chert Focalor

Sea Bass Fillet

8

-

C

Rainbrow Trout (big)

Forgotten Pool, River Wennath, The Maidenwater

Tidal Might Leviathan

Knife T. Tonberry

Whiskers: Pearly Moogle

Trout Fillet

8

-

D

Garnet Snakehead

Malacchi Pond, Daurell Spring, The Vesperpool - West Bank

Poppeck :Red Chocobo

Jumbo Tusk: Garula

Snakehead Teeth

8

-

C

Giant Trevally (big)

Vannath Coast

Poppeck: Chocobo

Sweet Jamming: Flan

Tidal Might Leviathan

GIant Trevally Fillet

8

-

B

Fan Bluegill

The Vesperpool - West Bank

Dowolna

Bluegill Fin

8

-

A

Crag Barramundi

Neeglyss Pond, The Versperpool - East Bank

Sweet Jamming: Custard

Bomber: Ice Bomb

Ranker Tonberrry

Tidal Might Leviathan

Barramundi Fillet

8

-

A

Chrome Rainbow Trout

River Wennath, Myrlwood Falls

Hot Breather: Blue Dragon

Trout Fillet

12

1

A

Phoenix Bass

Daurell Spring, The Vesperpool - East Bank

Bomber: Thunder Bomb

Fatal Roulette: Bloody Eye

Phoenix Bass Bladder

12

1

B

Zipper Barramundi

Rachsia Bridge

Deadly Waters: Coraldevil

Barramundi Fillet

12

1

B

Cleigne Brown Trout (big)

Myrlwood Falls

Burrower: Mad Pink Sandworm

Burrower: Abyss Worm

Trout Fillet

12

1

B

Jade Snakehead

Daurell Spring

Giant Needle 10,000: Gigantuar

Jumbo Tusk: Green Garula

Stinker: Great Malboro

Giant Needle 10,000: Gold Gigantuar

Snakehead Scales

12

1

B

Lucinian Sea Bass

Gondola Marina

Stormer: Purple Belly Focalor

Knife T. Tonberry

Sea Bass Fillet

12

1

C

Striped Barramundi

Caem Shore

Stormer: Focalor

Stormer: Chert Focalor

Stormer: Purple Belly Focalor

Barramundi Fillet

17

2

A+

Callatein Brook Trout

River Wennath, Myrlwood Falls

Burrower: Green Sandworm

Whiskers: Chocolate

Trout Fillet

17

2

A

Dark Allural Sea Bass

Caem Shore

Deadly Waters: Sea Devil

Big Blaze Bahamut

Sea Bass Fillet

17

2

A

Sapphire Snakehead

The Vesperpool - East Bank, The Vesperpool - West Bank

Stinker: Great Malboro

Giant Needle 10000: Gold Gigantuar

Giant Needle 10,000: Metal Gigantuar

Snakehead Scales

17

2

A

Golden Catfish

Crestholm Reservoir, The Vesperpool - East Bank, The Vesperpool - West Bank

Needle 1000: Gold Cactuar

Catfish Barbel

17

2

A

Platinum Myrltrout

Myrlwood Falls

Gemlight: Caster Carbuncle

Trout Fillet

23

3

A+

Tide Grouper

Caem Shore, Gondola Marina

Ranker Tonberry

Hot Breather: Red Dragon

Big Blaze Bahamut

Tide Grouper FIllet

23

5

A

Vesper Gar

The Vesperpool - West Bank

Ranker Tonberry

Stinker: Malboro

Stinker: Malbodoom

Vesper Gar Fillet

23

4

B

King Catfish

Neeglyss Pond

Invincible Iron Giant

King Catfish Heart

30

6

A++

Murk Grouper

Vannath Coast

Burrower: Abyss Worm

Murk Grouper Eye

30

7

A++

Noble Arapaima

The Vesperpool - East Bank

Giant Needle 10,000: Gold Gigantuar

Big Blaze Bahamut

Arapaima Scales

40

12

A++

Pink Jade Gar

Daurell Spring

Big Master Typhon

Jade Gar Mirrorscale

40

10

A+