The Great Escape | Misje poboczne - Sawtooth Cauldron | Borderlands 2
Borderlands 2 poradnik, solucja
Na tej stronie poradnika do gry Borderlands 2 znajduje się szczegółowy opis przejścia pobocznej misji The Great Escape. Quest ten możesz rozpocząć gdy uzyskasz dostęp do windy prowadzącej na dach konstrukcj w trakcie głównego zadania Toil and Trouble.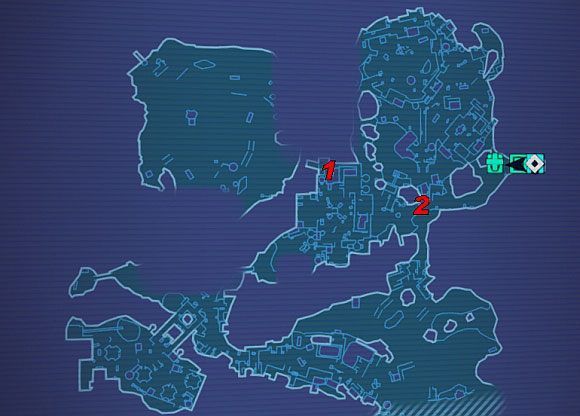 Sawtooth Cauldron
1) Ulysses
2) Hyperion Beacon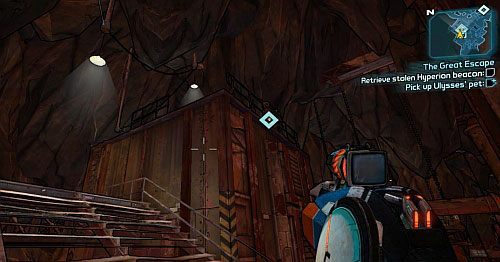 Wjedź windą na dach konstrukcji, gdzie znajdziesz Ulyssesa [1]. Będziesz musiał zdobyć nadajnik, dzięki któremu Ulysses będzie mógł opuścić Pandorę. Zjedź windą z powrotem na dół. Zaraz po prawej stronie, przy windzie, zobaczysz budynek pokazany na obrazku. Na jego dachu znajduję się Frederick the Fish, za którego otrzymasz dodatkowe punkty doświadczenia.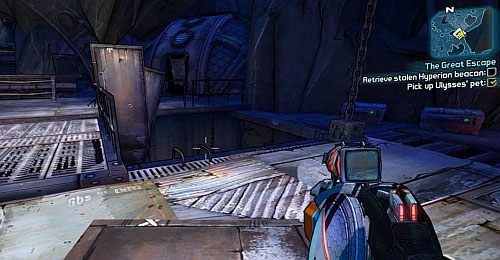 Idź do miejsca oznaczonego numerem [2]. Znajdziesz tam drabinę pokazaną na obrazku, którą zejdź niżej. Na dole będzie następna drabina, z której również skorzystaj. Podnieś Hyperion Beacon i wróć do Ulyssesa [1]. Umieść nadajnik w wyznaczonym miejscu, obok Ulyssesa i porozmawiaj z nim, by zakończyć zadanie.