Bearer of Bad News | Misje poboczne - Sanctuary 3 | Borderlands 2
Borderlands 2 poradnik, solucja
Na tej stronie poradnika do gry Borderlands 2 znajduje się szczegółowy opis przejścia pobocznej misji Bearer of Bad News. Quest ten możesz rozpocząć w Sanktuarium (Sanctuary) po ukończeniu głównego zadania Where Angels Fear to Tread.
Sanctuary
1) Mordecai/Tannis/Brick
2) Moxxi
3) Marcus
4) Zed
5) Scooter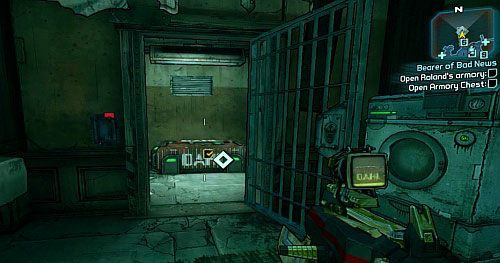 Twoim zadaniem, po rozmowie z Mordecaiem [1], będzie przekazanie złej wiadomości, znajomym Rolanda. Poinformuj Moxxi [2], Marcusa [3], Zeda [4], Scootera [5], Tannis [1] i Bricka [1] o śmierci ich przyjaciela. Kiedy odwiedzisz wszystkich, wróć do Mordecaia [1]. Po rozmowie zejdź na parter, gdzie będziesz mógł otworzyć skład broni Rolanda. Po opróżnieniu zawartości skrzyni, wróć do Mordecaia [1], by zakończyć zadanie.