Best Mother's Day Ever | Misje poboczne - The Highlands | Borderlands 2
Borderlands 2 poradnik, solucja
Na tej stronie poradnika do gry Borderlands 2 znajduje się szczegółowy opis przejścia pobocznej misji Best Mother's Day Ever. Quest ten możesz rozpocząć w lokacji The Highlands dzięki podniesieniu przedmiotu Taggart's Gift for Mom.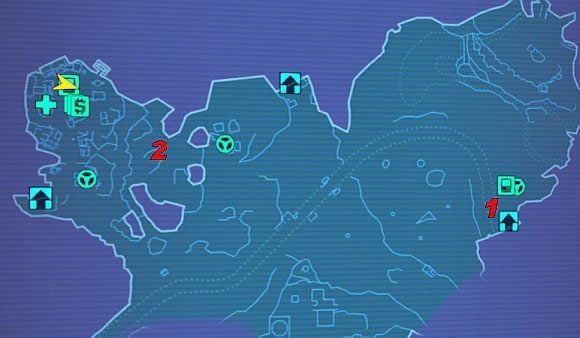 The Highlands
1) Taggart's Gift for Mom
2) Gniazdo Stalkerów/Henry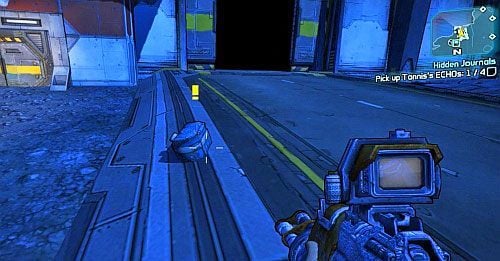 Istniej szansa, że jeden z Stalkerów, po zabiciu upuści Taggart's Gift fot Mom, który rozpocznie to zadanie poboczne. W moim przypadku przedmiot zdobyłem od Stalkera zabitego w takcie misji pobocznej The Overlooked: Medicine Man, w rejonie oznaczonym na mapie jako [1].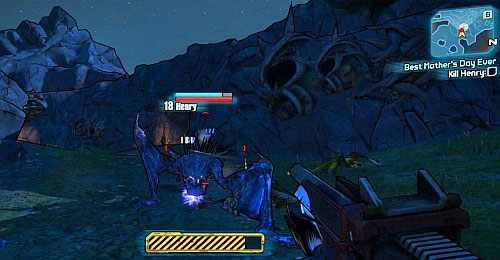 Kiedy już zdobędziesz wymagany przedmiot, jedź do gniazda Stalkerów, w północnej części mapy [2]. Zabij sześć sztuk Ambush Stalkerów, by wywabić Henryego. Ponieważ przeciwnik otoczony jest tarczą, dobrym wyborem jest broń z Shock Elemental Effect. Henry co jakiś czas będzie przywoływać Slagged Stalkery ( wykorzystaj je do Second Wind) oraz teleportować się, by zregenerować tarczę. Kiedy go zabijesz, podnieś Taggart's Fist. Teraz umieść skrzynkę z prezentem, w wyznaczonym miejscu i ją otwórz. W ten sposób odbierzesz nagrodę oraz zakończysz zadanie.