Clan War - First Place | Misje poboczne - The Highlands | Borderlands 2
Borderlands 2 poradnik, solucja
Na tej stronie poradnika do gry Borderlands 2 znajduje się szczegółowy opis przejścia pobocznej misji Clan War: First Place. Quest ten możesz rozpocząć w lokacji The Highlands po ukończeniu pobocznego zadania Clan War: Starting the War.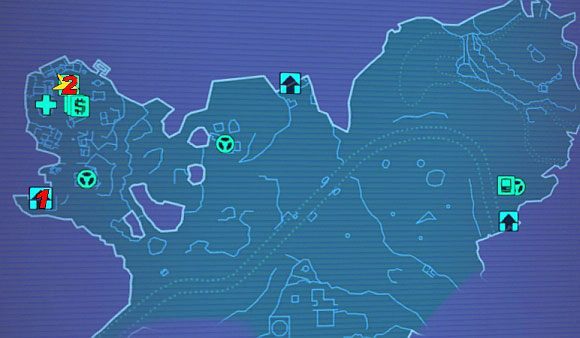 The Highlands
1) The Holy Spirits
2) Fast Travel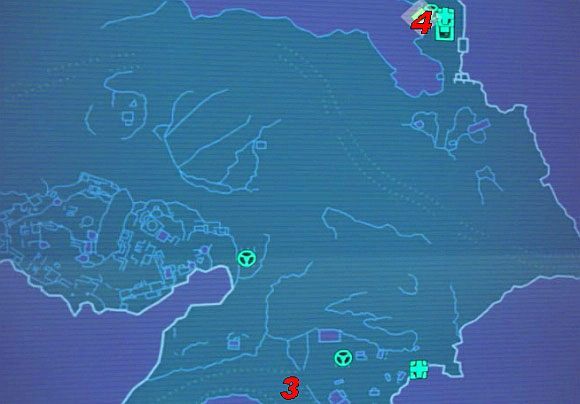 The Dust
3) Tor wyścigowy
4) Ellie
Porozmawiaj z Mickiem Zafordem w The Holy Spirits [1], by rozpocząć zadanie. Udaj się za nim do piwnicy pubu, skąd zabierz cztery sztuki Zaford Explosives i wyjdź na zewnątrz pubu. Skorzystaj z Fast Travel [2] i przenieś się do The Dust. Pojedź na tor wyścigowy [3] i na moście/skoczni podłóż w wyznaczonych miejscach cztery ładunki wybuchowe.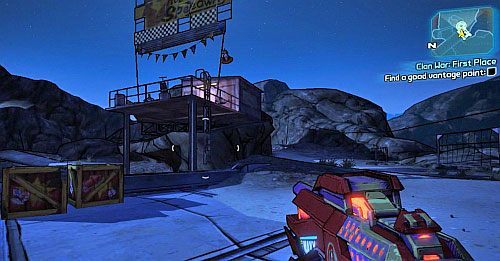 Teraz wróć na początek mostu i wejdź po drabinie do punktu pirotechnicznego, pokazanego na obrazku. Na górze pozbądź się operatora.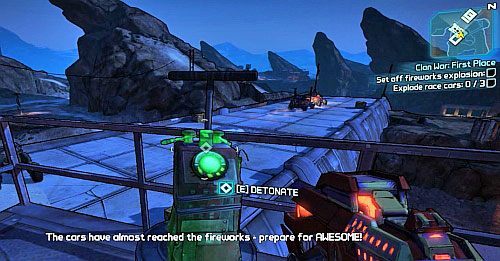 Kiedy to zrobisz, zacznie się wyścig. Musisz zaczekać, aż trzy pojazdy biorące udział w wyścigu znajdą się na moście (lub przynajmniej w jego pobliżu) i w tym momencie zdetonować ładunki. Teraz wróć do Ellie [4], by zakończyć zadanie.