Too Close For Missiles | Misje poboczne - The Dust | Borderlands 2
Borderlands 2 poradnik, solucja
Na tej stronie poradnika do gry Borderlands 2 znajduje się szczegółowy opis przejścia pobocznej misji Too Close For Missiles. Quest ten możesz rozpocząć w trakcie pierwszej wizyty w lokacji The Dust.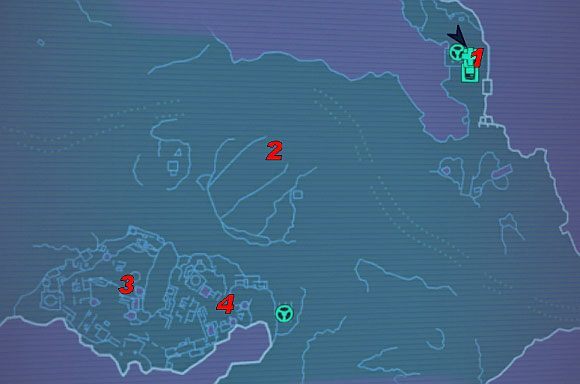 The Dust
1) Loggins
2) Skocznia
3) Obóz Bandytów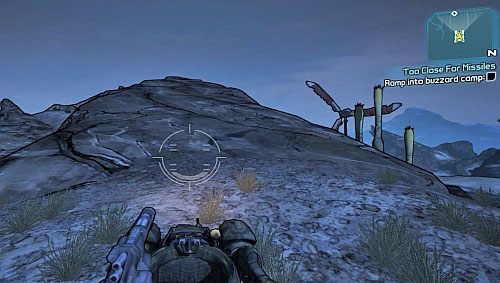 Po prawej stronie warsztatu Ellie, będziesz mógł porozmawiać z Logginsem [1], który zleci Ci to zadanie. Wsiądź do pojazdu i jedź przed skocznie [2], pokazaną na obrazku. Będziesz musiał się z niej wybić (nie zapomnij o użyciu Boost, domyślnie F), by dostać się do obozu Bandytów [3].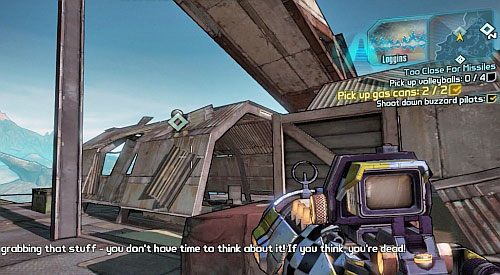 Na miejscu będziesz musiał zebrać cztery Volleyballs oraz dwie sztuki Gas cans. Przedmioty rozrzucone są po całym obozie, w tym również na dachu budynku, pokazanego na obrazku.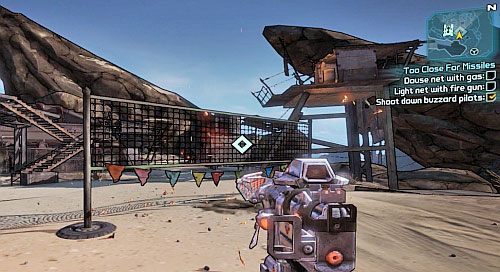 Kiedy zbierzesz wszystkie rzeczy, Użyj Gas cans na siatce pokazanej na obrazku [4]. Następnie strzel do siatki z broni z Fire Elemental Effect, by ją podpalić. Kiedy to zrobisz zostaniesz zaatakowany przez trzech Shirtless Men. Zabij wszystkich i wróć do Logginsa [1], by zakończyć zadanie.