This Town Ain't Big Enough | Misje poboczne - Southern Shelf | Borderlands 2
Borderlands 2 poradnik, solucja
Na tej stronie poradnika do gry Borderlands 2 znajduje się szczegółowy opis przejścia pobocznej misji This Town Ain't Big Enough. To jeden z kilku questów możliwych do odblokowania w trakcie pobytu w lokacji Southern Shelf.
W Southern Shelf wszystkie zadania poboczne są zlecane przez Hammerlocka, po wykonaniu misji fabularnej Cleaning up the Berg. Wyjątkiem jest zadanie Handsome Jack Here!, które rozpocznie się po odnalezieniu ECHO Recorder.
This Town Ain't Big Enough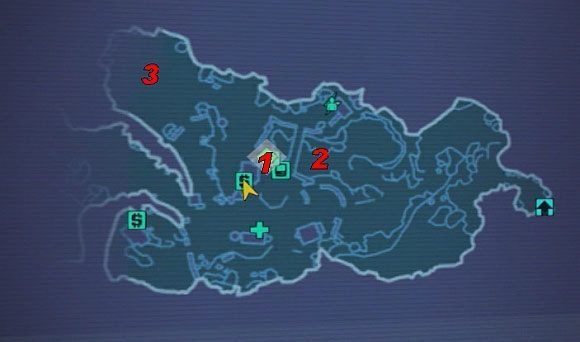 1) Hammerlock
2) Pierwsza grupa Mongltów
3) Druga grupa Mongletów
Po rozmowie z Hammerlockiem, udaj się w jedno z dwóch miejsc wskazanych na mapie [2] lub [3].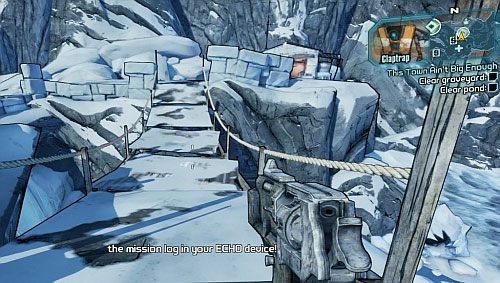 Aby dostać się do [2], musisz zeskoczyć na dół, z mostu pokazanego na obrazku.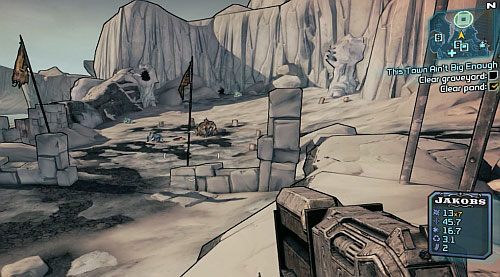 Do drugiej grupy przeciwników [3] dojdziesz idąc na północny zachód od Hammerlocka. Na miejscu, będziesz musiał zmierzyć się z grupą Mongletów. Kiedy oczyścisz oba miejsca wróć do Hammerlocka po nagrodę w postaci Angry Rifle. Teraz będziesz mógł otrzymać kolejne dwa zlecenia. Przyjmij oba zlecenia i udaj się do zachodniej bramy.